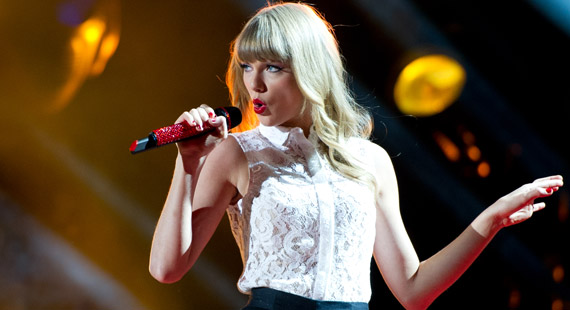 Mark Runyon | ConcertTour.org
Taylor Swift – The Boyfriends That Inspired The Songs
Not to call Taylor Swift's wholesome reputation into dispute, but ever since she burst onto the country-pop scene back in 2006, she's been linked with more celebrity boyfriends than most people have hot dinners. With a list of exes that reads like a who's who of showbiz, her confessional tales of past relationships have understandably become a huge source of gossip, with each song raked over for clues as to which unfortunate ex she's spilling the beans about. In the wake of yet another split, this time with One Direction's Harry Styles, here's a look at six of her most high-profile victims and the songs they supposedly inspired.
Joe Jonas
The relationship where it all started, Swift dated the middle Jonas brother for four months back in 2008 but despite his squeaky clean reputation, the former Disney star reportedly ended their brief romance over the phone. Proving that she isn't a woman to be messed with, Swift then addressed the break-up on "Forever and Always," a last-minute addition to 2008's Fearless. But she wasn't done there. 2010's Speak Now featured a bitter riposte to the 10,000 BC actress, Camilla Belle, who Jonas allegedly dumped her for ("she's an actress/but she's better known for the things she does on the mattress"). Miaow.
Taylor Lautner
Despite only dating for three months, Swift still found enough mileage out of her relationship with her Valentine's Day co-star Taylor Lautner to write the track, "Back From December." However, in a rare case of pride-swallowing, Swift actually confesses that she was the one to blame for their split whilst also apologising to the Twilight star for taking him for granted. Lautner can consider himself lucky that he's possibly the only ex not to be painted as the villain of the piece.
Jake Gyllenhaal
By far her most high-profile boyfriend, Hollywood A-lister Jake Gyllenhaal was the other half of yet another three-month relationship. But unlike Lautner, the Brokeback Mountain star was reportedly less chivalrous, calling quits on their fling via the heartless method of a text. Little wonder then that the Oscar nominee is widely rumoured to be at the centre of Swift's most venomous and most successful kiss-off, "We Are Never Ever Getting Back Together."
John Mayer
Eyebrows were raised when Swift was linked with the renowned womaniser, twelve years her senior, in early 2010. So unlike most of her musical acts of revenge, there was little ambiguity about the target of Speak Now album track "Dear John." Indeed, it's fair to say that the soft-rocker doesn't come off too well on the acoustic ballad as Swift accuses him of constantly betraying her, even if the temptation is to think 'I told you so.' She also sticks the knife in on the polite dubstep of Red single "I Knew You Were Trouble," claiming that she was only ever a new notch in his belt whilst also arguing that he's incapable of truly loving anyone.
Conor Kennedy
After dating a string of actors and musicians, Swift then decided to change tact by dating Conor Kennedy, the son of politician Bobby and most notably, a high-school student four years her junior. The coming together of political and pop royalty didn't last long, but once again, she still managed to get a song out of it, although Kennedy can be thankful that Red opener "State Of Grace," a slice of windswept U2-esque stadium rock about the thrilling 'life in the fast lane' nature of their relationship was recorded before she moved onto Harry Styles.
Cory Monteith
Proof that no-one is safe when it comes to being the subject of a Taylor Swift song, Glee star Cory Monteith never even dated the 21st Century answer to Carly Simon. But a mere cuddle next to a lake was apparently enough for Swift to pen the hit single "Mine" about the infatuation she felt for him and equally her tendency to run from true love. It appears as though Monteith may have had a lucky escape.