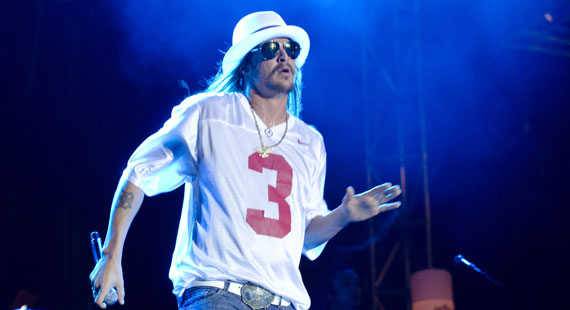 Mark Runyon | ConcertTour.org
Kid Rock Eclipses Bob Seger's Eight Sold Out Show Record in Detroit
Purveyor and pioneer of what can only be described as "country metal", Kid Rock, just smashed attendance records at the DTE Energy Music Theater in his hometown of Detroit with previous record holder Bob Seger helping out. Seger, who rather than being all bitter and angry, seemed happy to celebrate with the rockstar.
Kid Rock played eight sold out shows at the iconic venue. Thanks to increased capacity and presumably, more enthusiastic attendees, Bob Seger's 1977 shows at the then-Pine Knob (what a weird name for a venue?) couldn't compete, making Kid Rock the new record-holder.
Fellow Detroit native Seger wasn't feeling sad, though, or if he was he hid it well, performing with the Kid for an encore on the final date, August 20th.
This isn't the first time the pair have collaborated, but it was the first time they collaborated in celebration of a record-breaking achievement, which in itself, is a record. They performed Seger's classic "Old Time Rock n Roll" and Kid Rock's summer mega-hit "All Summer Long."
Apparently, Kid Rock's mom was also there (not on stage) because she was celebrating her birthday and hadn't ever seen the pair onstage together, which must have been nice and emotional for her. It seems the night was emotional for the whole Rock family, as throughout the show, Kid Rock kept saying things like this:
"I'm kind of speechless, I can't believe this is the last night."
Still it ended on a high, with The Detroit News reporting plenty of "WOO"s.
Kid Rock can add his latest achievement to a long list of the things, including being a five time Grammy nominee, selling 27.5 million albums worldwide and being Soundscan's 17th best-selling male solo musician for the nineties.
The million dollar question now is: who's gonna top it next?
Well, here is a list of good candidates who are also from the Detroit area:
Eminem
Iggy Pop
Insane Clown Posse
Xzibit
Alice Cooper
Big Sean
Madonna
Begin placing your bets, ladies and gentlemen.