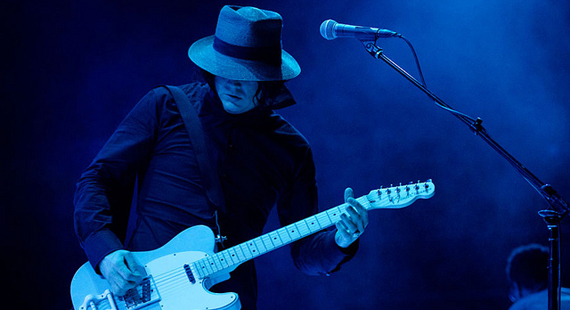 Mark Runyon | ConcertTour.org
Concert Review: Jack White at Firefly Music Festival in Dover
Jack White has been a very busy man. Since the White Stripes officially disbanded in February of last year, he seems to have answered the nagging question of what was next. In the time since Icky Thump was released (2007), White has been occupying himself with side projects (Racounteurs, The Dead Weather), producing albums for other artists (Loretta Lynn, Wanda Jackson) and generally digging into his musical arsenal of tricks. Once Meg White put the Stripes out to pasture, Jack seemed to finally be able to move on from his first love to embrace life as a solo artist, and why not? For all of Meg's talents, Jack was clearly the heart and creative soul of the White Stripes. In theory, he shouldn't miss a beat by dropping the moniker and truly getting credit where credit is due by touring as a solo artist.
April's release of his first solo effort, Blunderbuss, confirmed White's brilliance, so the only step left was to make a name for himself. The music snobs of the world know Jack White, but the general music listening public likely hasn't necessarily equated that Jack White = White Stripes. Hell, I even dated a girl once who listed one of her favorite bands as "Seven Nation Army." Yes, that should have been a tell tale sign that the relationship was doomed.
To combat this lack of name recognition, Jack White has seemingly played hopscotch around the globe, hitting every festival under the sun to help the faithful become aware that there indeed is life after the White Stripes. Friday night, he headlined the inaugural Firefly Music Festival in Dover, Delaware. The crowds successfully dodged the rain clouds all day long, but as evening fell, the drizzle kicked up. By the time Jack White brought his chops to the stage, light rain blanketed the audience.
He came up from the belly of the stage in all black, complete with flipped up collar, a straw hat and a no-nonsense look plastered upon his face. Music is serious business to Jack White. With every move, you can see he is a perfectionist to his craft. He seems to come over to jam with his band mates as much to critique their playing, as it is a sign of camaraderie. I think he'd be perfectly happy cloning himself by a factor of five and manning all of the instruments. That is just the attention he pays to detail, and it shows with the finished product.
Anyone worried that Jack would treat his White Stripes past like a red headed step child in his live set needn't worry. He dusted off tracks like "Hello Operator" and "Hotel Yorba," and played them with great intensity. Blunderbuss was of course well represented throughout the setlist, but he also sprinkled in favorites from the Racounteurs ("Steady As She Goes") and The Dead Weather ("I Cut Like a Buffalo"). There was a little something for everyone. He wasn't much of a conversationalist, but he commented on his appreciation for everyone weathering the storm to stick around for his set, and he later conducted an impromptu sing along with "Steady as She Goes."
Everyone knows Jack White can rock, but what may escape your notice is how much funk he brings to the table. His set was infused with a lot of soul that seemed more prominent with the support of the full band than it did in the past with just he and Meg.
Jack White is an extremely gifted musician with a freakish attention to detail that shines through in every note of his live act. Its hard to match his energy and dedication to his craft. He was the perfect choice to wrap up the first night of the new Dover festival. Anyone questioning whether Jack White would survive outside the context of The White Stripes should have had those questions violently squashed by seeing his live set. Jack White is just fine in his new role of solo artist. I don't think its a stretch to say that his best days as a musician are still ahead of him.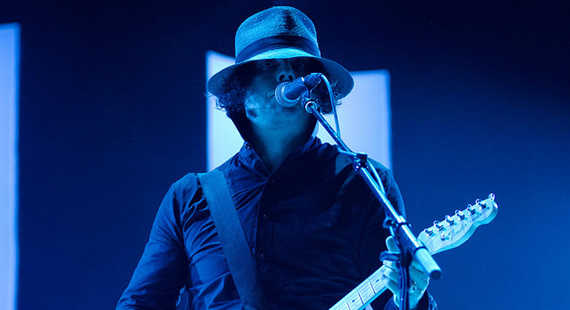 Mark Runyon | ConcertTour.org