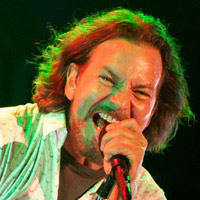 We have come to the final night of Atlanta's 2-day music festival Music Midtown. Saturday, we rolled back the clock to revisit Garbage, had a bizarre visit from swashbuckling Adam Ant, saw one-hit-wonder Neon Trees and was blown away by the vocal acrobatics of Florence + the Machine. There was no rest for weary ears though as headliners Pearl Jam prepared to take the stage.
The band has kept a relatively low profile on the touring front this year. The group assembled to help friend Jay-Z launch his Made in America festival a few weeks back, and recently completed a month-long swing through Europe in June. Most of the touring of late has been left to frontman Eddie Vedder. He completed a solo stint in the spring and has another leg launching from Las Vegas on Halloween. The band has a few songs cobbled together for the follow-up album to Backspacer according to McCready in a recent interview with Rolling Stone, but studio work has been put on hold until Vedder wraps his upcoming road work in December.
As Pearl Jam took the stage, my high school self was oozing with jealousy. Pearl Jam was one of the first bands I sank my teeth into when I first truly discovered music. I wore out that poor cassette tape of their debut Ten and still declare it one of the greatest albums ever made. It has been 20 years since the band formed in Seattle and while the wrinkles were more prominent and the hairlines not quite as full, they were here to show they could still drop the hammer on some of rock's best known anthems.
They wasted no time with introductions as they plowed right into Ten's "Why Go." The sweaty crowd 52 thousand deep lent new meaning to the term sardine can as they packed ever closer to see this rock enigma that is Eddie Vedder. Pearl Jam certainly weren't there to disappoint. Their live shows have become a thing of legend over the years and have built a rabid fanbase even though the endless parade of hits has noticeably dimmed.
The band sparked an incredible energy from the stage. As anyone who has heard a Pearl Jam recording can attest, Vedder can pull notes out of the furthest reaches of his lungs. Seeing that intensity and passion manifest itself first hand is quite a sight. While Eddie is clearly the star attraction, the talent that surrounds him is constantly bubbling up to grab the spotlight's affection. Mike McCready was hamming it up, playing the guitar behind his head. Matt Cameron was abusing the drums like they were a rock critic. Stone Gossard had that focused energy, channeling the rhythm. The only guy who appeared a little shy was Jeff Ament. Come up to the front and soak up the praise every once in a while Jeff.
The song setlist was pretty varied. They bounced around their expansive catalog, giving you a nice sampler platter of sonic goodies. Ten definitely got more than its fair share of loving with hits like "Alive," "Jeremy," "Even Flow," "Black" and "Porch." It's no coincidence that the crowd erupted as the guitar signature from each track bled out. I think the band long ago came to terms with the fact that they will never eclipse the success of Ten. There's no need to race on that hamster wheel.
The Victoria Williams cover "Crazy Mary" was a nice touch. You could tell from the fan's response that this wasn't a gem they pulled out every day. It was one of three covers featured during the evening with the Clash's "Know Your Rights" and Neil Young's "Rockin' in the Free World." The later was introduced by Vedder stepping up on his soapbox to tell people of the importance of voting in the upcoming presidential election as well as bringing up the controversial voter ID issue that is in effect in Georgia. "Evidently a gun license will get you in the booth in Florida," he remarked which got a hardy laugh from the audience.
You'd think after closing DeLuna Festival in Pensacola, Florida last night, PJ would be ready to wrap things early at Midtown. Nothing could be further from the truth. They wrung every minute out of their two-hour set. They closed "Alive" and found out they only had two minute left. The band was scrambling around saying they had one more song to get in and to bear with them. Neil Young's "Rockin' in the Free World" never sounded sweeter on borrowed time.
In all, Pearl Jam played an amazing set. They are unquestionably one of the premiere live bands touring in rock today. They just have such a genuine love for the music and would be hitting that stage if they weren't getting paid a dime. They are extremely thankful that their devoted fan base has afforded them the chance to keep playing all these years. At one point in the evening, Vedder stared out from the Midtown stage over the glowing Atlanta skyline and commented how beautiful the city looked from here. Eddie, Atlanta welcomes you and the boys of Pearl Jam with open arms whenever you want to stop in and play a few. It has been nothing short of a privilege.
Pearl Jam Music Midtown Setlist : September 22, 2012
Why Go
Save You
Animal
Elderly Woman Behind the Counter in a Small Town
Corduroy
Got Some
Amongst the Waves
Wishlist
Better Man
Do the Evolution
Evenflow
Know Your Rights (Clash)
Nothingman
Supersonic
Jeremy
Porch
Encore
Crazy Mary (Victoria Williams)
Given to Fly
The Fixer
Rearviewmirror
Encore 2
Unthought Known
Black
Alive
Rockin' in the Free World (Neil Young)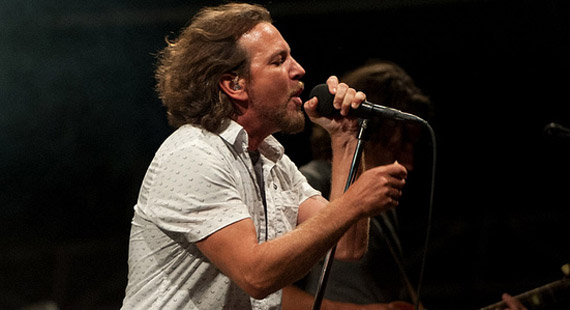 Mark Runyon | ConcertTour.org