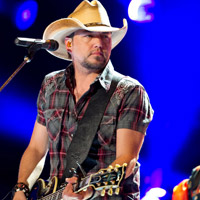 Bayou Country Superfest announced today that George Strait, Luke Bryan, Jason Aldean, Reba McEntire, Eric Church, Florida Georgia Line, Hunter Hayes, Lee Brice and more are set to appear at the 5th annual festival, scheduled for May 23th, 24th & 25th, 2014 in Baton Rouge, Louisiana. Taking place over Memorial Day Weekend, the Bayou Country Superfest brings country music fans from across the continent to Baton Rouge for a holiday weekend of country music, tailgating and good old fashioned fun. What's more exciting is that this year festival organizers have added an additional day of festivities on Friday for your listening enjoyment.
Country music legend George Strait is set to fulfill headlining duties on Friday May 23rd as part of the final stretch of his "The Cowboy Rides Away" Tour, while Entertainer of the Year, Luke Bryan, takes over the headlining reins on night two of the festival. Modern country icon Jason Aldean will take center stage on Sunday May 25th, closing out the festival weekend.
Quint Davis, producer/director of the Bayou Country Superfest said, "For the 5th anniversary, we are taking the Country Superfest to another level! It doesn't get any more exciting than adding a third night to present George Strait's farewell tour plus Luke Bryan, Jason Aldean, Reba and Eric Church over three huge days of country music."
We couldn't agree with you more, Quint. You've stacked up quite the bill of Country music heavyweights.
Lt. Governor Jay Dardenne added, "Happy fifth birthday Bayou Country Superfest! We are thrilled to partner with the Festival once again to bring country music fans from all over the world to Baton Rouge on Memorial Day Weekend to enjoy the biggest names in the business. We are especially excited about the Festival adding an additional day, featuring George Strait, meaning an even bigger economic impact on the city and state."