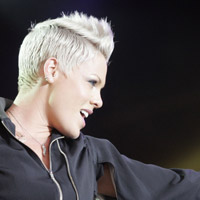 Earlier this week, Cyndi Lauper's True Colors Fund confirmed that it's going to be holding its third annual "Home For The Holidays" benefit concert later in the year.
The benefit aims to benefit the LGBT youth community by reducing their homelessness rate (40% of homeless youths identify as LGBT) through the Forty To None project, an organization seeking to "educate and engage the public and advocate within government and media, creating empowering experiences for these young people, facilitating leading research, and aiding service providers in building their capacity and creating an inclusive environment within their agencies."
The concert line-up is set to include a veritable smorgasbord of talent, including long-time marriage equality advocate Pink, Josh Groban, Susan Sarandon and the Indigo Girls, among others.
"Home for the Holidays is once again going to be an amazing night of music and comedy in support of a cause close to my heart, homeless gay and transgender youth," said Lauper in a statement. "I'm proud that we have built a show that not only sells out every year, but has become well-known for bringing together a stellar array of artists to help change the world through an evening of incredible performances. This year's concert will help us to continue to move our Forty to None Project's work forward to help these young people live happy, healthy and productive lives."
According to a statement on the True Colors Fund website "Home For The Holidays" has been a great success since its inaugural year in 2010:
"For the past two year, the concert has played to sold out audiences of over 2,800 each year and welcomed incredible performers like Sarah McLachlan, Jason Mraz, Norah Jones, Adam Lambert, Whoopi Goldberg, Lou Reed, Wanda Sykes, Cassandra Wilson, Alan Cumming, Jon Secada, and many more."
"Home For The Holidays" is scheduled to take place on Saturday, December 7th 2013 at the Beacon Theatre in New York.