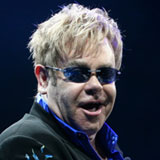 Researchers for a BBC radio show have recently uncovered 60s talent-spotters' verdicts on some of the most successful acts in British popular music history and there are some belters.
"Auditioning for Auntie," which is set to air on BBC Radio 4 on October 21st, looks at the process by which up-and-coming British acts would have to audition before the Talent Selection Group in order to perform on the BBC's pop-music programs of the time.
In 1968, a young performer known as Elton John was among the auditionees, and performed three songs – "All Across the Havens", "Lady Samantha" and "Skyline Pigeon" – in front of producers who had this to say of his performances:
"The items are not songs. Pretentious material, self-written, sung in an extremely dull fashion without any feeling and precious little musical ability. Thin, piercing voice with NO emotion. Not a tuneful voice."
One producer finally added, "He writes dreary songs and he sounds like a wonky singer."
Despite the less-than-positive verdict, a tape of Elton John's audition was passed on to BBC bosses, who agreed he would be able to perform.
David Bowie fared even worse in 1965 when he performed a version of "Chim Chim Cher-ee", from the Mary Poppins film. The then-nobody, 70s-somebody and now-everybody, was described as an "amateur sounding vocalist who sings wrong notes and out of tune." Wow.
The Who also turned up in February 1965 with two members arriving 25 minutes late. "Not endowed with much sense of urgency," wrote the producer, adding, "overall, not very original and below standard."
While Simon and Garfunkel and Nick Drake worked their magic, Marc Bolan's music failed to impress the producers, being described as 'c–p, and pretentious c–p at that.'
The Rolling Stones were also rejected by the panel in 1963, being called "unsuitable for our purposes" by the undeserving-of-their-titles "talent-spotters."
Not much to say about all of this, really, except who doesn't enjoy a good laugh at the past eh?