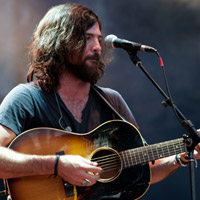 Vampire Weekend, MGMT, Avett Brothers and Robin Thicke will be among the groups topping the bill at this year's Virgin Mobile FreeFest.
Just like it says on the tin, the event is free, and is used to raise money for efforts to end youth homelessness. This year's incarnation takes place September 21 at the Merriweather Post Pavilion in Columbia, Md.
Other acts on the bill include City and Colour, Pretty Lights, Washed Out, Kaskade, Icona Pop, Little Green Cars and Black Joe Lewis. The gates at the event open at 11 a.m., and music will last until 10 p.m.
Just because the event is free, don't think you don't have to get tickets. Tickets will be distributed free on ticketfly.com starting August 9, though Virgin Mobile customers will have the chance to get early tickets the day before that. Billboard reports that "tens of thousands" of free tickets will be available on the website. Still, you'll want to get them as soon as they go on sale, as last year's event had a total of 50,000 attendees, and the free tickets were gone in minutes.
The event has been held for the past four years, and in that time has raised almost $800,000 for efforts to end youth poverty. Organizers say the event has always been free to help music lovers in trouble economic times, and encourage concertgoers to give donate $10 to the cause.
In addition to the music, those that attend the festival also can expect a wide array of food options, including burgers, sushi, chicken fingers, falafel, veggie wraps, fruit smoothies, fries and more. Of course, there will also be beer, wine and cocktails available, and I like the festival's attitude toward beer gardens:
"You won't find pesky beer gardens here because our idea of a good time does not include sitting in a cage while drinking a cocktail," says the event's website. If only all festivals felt that way…