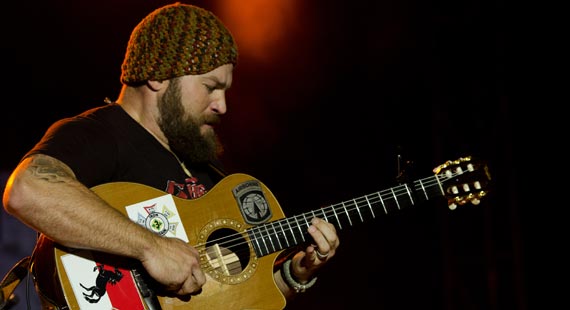 Mark Runyon | ConcertTour.org
Zac Brown Recruits Gregg Allman, David Gray, Los Lonely Boys for Southern Grounds Festival
Earlier this year, Zac Brown announced that this year's second annual version of his music festival, Southern Ground Music & Food, will hold a weekend in Nashville in addition to another in last year's home base of Charleston, S.C. Now he's announced the lineup for the events, which include Gregg Allman, David Gray and Los Lonely Boys, among others.
The first of the two festivals will be the Nashville version, which will be held September 21-22 at the city's downtown area Riverfront Park. The Charleston weekend will be October 20-21 and will be held at Blackbaud Stadium.
The two cities will host different lineups, with Allman and Gray appearing alongside Amos Lee and Edward Sharpe & the Magnetic Zeros in Charleston. In Nashville, the lineup includes Los Lonely Boys as well as Avett Brothers and Grace Potter & the Nocturnals. Of course, Zac Brown Band will play both festivals, as will other group's signed to his Souther Ground record label including Sonia Leigh, Nic Cowan and Blackberry Smoke. Michael Franti & Spearhead also will appear at both weekends.
As its name would suggest, a big part of the festival is food and drink to go along with the music. Everyone purchasing VIP tickets to the shows will receive a four-course gourmet meal by Southern Ground Executive Chef Rusty Hamlin. These ticket-buyers also will be seated in Front Porch Stage Boxes, which offer onstage seating for the shows.
Zac Brown is currently celebrating his third studio album, Uncaged, which is the number one album in the country right now. The album was released on July 10, and Brown recently spoke of the new sound he attempted to achieve for the record.
We're always trying to push the barrier of our musicianship and I'm proud to say that there is a little bit of something for everyone," he said. He also added that the record results from the "powerful chemistry that's developed by living, traveling and working as a band."