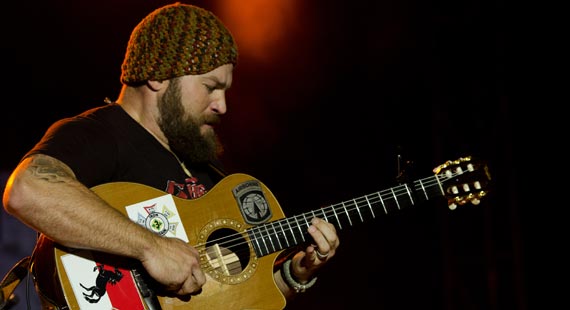 Mark Runyon | ConcertTour.org
Zac Brown Grabs Willie Nelson, Grace Potter for Nashville's Southern Grounds Festival
The Nashville incarnation of Zac Brown's Southern Grounds festival will be back for a second time later this year, and will feature Willie Nelson and Grace Potter, among others.
Those are just the a few of the artists that will appear at the two-day festival, and when Zac Brown Band performs at the close of both nights, it will welcome special guests Kenny Chesney, John Fogerty and Jason Mraz for what are being called "Super Sets."
For the second time, the event will be held at Music City's Lawn at Riverfront Park concert space. This year's festival will be held September 27-28.
Other acts that have been announced so far are Eli Young Band, Edward Sharpe and the Magnetic Zeros, Head and the Heart, Trombone Shorty & Orleans Avenue, and Kacey Musgraves. The latter is one of the best singer-songwriters currently working in mainstream Country, and recently released her debut album, Same Trailer, Different Park.
Of course, Southern Grounds is known for having a ton of different artists, and more artists will be announced in the near future.
Tickets for the festival start at $99 for two day passes, and go on sale throughout the coming days. Members of the Zac Brown Band fan club can get in on an exclusive presale tomorrow, April 24, while those that attended the festival last year can purchase tickets the following day. The general onsale date is April 27.
As with past festivals, there also will be VIP ticket options that include prime onstage seating as well as a gourmet meal prepared by Southern Ground Executive Chef Rusty Hamlin and other chefs working under him. VIP guests also have access to complimentary alcoholic and nonalcoholic drinks throughout the festival.
Brown also hosts a Southern Grounds Festival in Charleston, South Carolina, and dates and headliners for this year's event there are expected to be announced soon. Last year's Nashville even attracted more than 12,000 music fans.