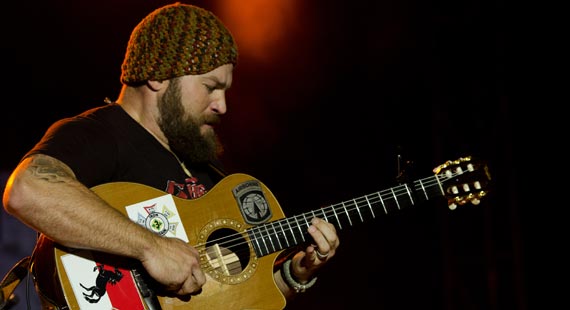 Mark Runyon | ConcertTour.org
Zac Brown Band's Southern Ground Festival Takes Nashville, Charleston
Zac Brown debuted his Southern Ground Music & Food Festival last year in Charleston, S.C., and this year he's bringing the festival back with an additional weekend in Nashville.
The festival, which was voted "Best Music Concert of 2011" by readers of Charleston City Paper, will return to that city October 20-21. The Nashville version of the event will be held September 21-22 at the city's Riverfront Park. A new concert location in Riverfront Park called The Lawn will host the event, which is on the Cumberland River in downtown Nashville. The Zac Brown Band will perform every night of the festival in both cities, and a slew of additional bands are expected to be announced in the near future.
In addition to the music of the festival, there also will be a variety of food and beverage vendors. In fact, VIP ticket options include access to customized Front Porch Stage Boxes. VIP ticket purchasers will have access to special on-stage seating, along with a gourmet meal prepared by a team of chefs under the leadership of Southern Ground Executive Chef Rusty Hamlin.
This year's festival is presented by LandShark Lager and Jack Daniel's, so there will obviously be a variety of beverages to wash down all the food from the festival. Art vendors also will be set up at both locations of the festival.
The festival is named after Zac Brown's Southern Ground record label, which has a roster including Zac Brown Band, Nic Cowan, Blackberry Smoke, Sonia Leigh, Levi Lowery, The Wood Brothers and The Wheeler Boys.
In other Zac Brown Band news, the group's third studio album, Uncaged, is set to be released July 10, and Brown recently opened up about the sound of the new record.
"We're always trying to push the barrier of our musicianship and I'm proud to say that there is a little bit of something for everyone," he said, adding that the record comes from the "powerful chemistry that's developed by living, traveling and working as a band."