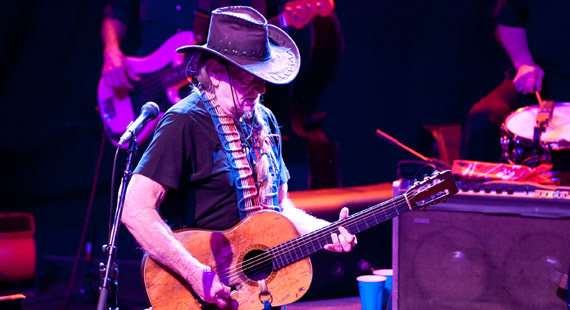 Mark Runyon | ConcertTour.org
Willie Nelson, Band of Horses Head Out on Railroad Revival Tour
Willie Nelson and Band of Horses will be among the acts playing the second annual Railroad Revival Tour, it was announced recently.
This year's tour will continue the tradition started last year of traveling by train to play outdoor dates in a handful of cities. The tour will kick off on October 20 at the Southeastern Railway Museum in Duluth, Ga., and is scheduled to run through October 28. At that point, all of the bands involved will have ridden the rails across the country to a show at Oakland's Middle Harbor Shoreline Park.
Other cities the tour will visit are Memphis; Oklahoma City; Old Town Spring, Texas; Tempe, Ariz., San Padro, Calif. and one more city that will be announced later. Traveling with Nelson and Band of Horses are Jamey Johnson and John Reilly & Friends.
The tour's official website describes the tour like this:
Railroad Revival Tour is an experience that transcends typical music tours or festivals and glorifies the historical romance between music and trains under the setting of the great American landscape. This one-of-a-kind U.S. train tour travels from town to town aboard 16 vintage, 1940's rail cars, setting up open air, pop-up concert venues in parks, fields and lots around the railroad tracks where they stop.
Last year's inaugural Railroad Revival Tour event included music from Mumford & Sons, Edward Sharpe and the Magnetic Zeros and Old Crow Medicine Show. As you might expect, that tour also featured impromptu jam sessions at train stations along the way, so there's little reason to suspect the same wouldn't happen this year.
A documentary about last year's tour called "Big Easy Express" was made and is out today on DVD and Blu Ray; it was released on iTunes late last month. The film was inspired by the 2003 documentary the "Festival Express," which documented a 1970 railroad tour of Canada by the Grateful Dead, Janis Joplin and the Band.