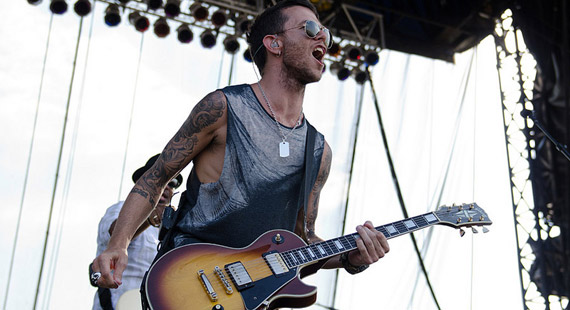 Mark Runyon | ConcertTour.org
Wakarusa 2014 Welcomes Umphrey's McGee, Michael Franti, STS9
Wakarusa festival organizers have just announced the initial line up for this year's festival, which is set to take place between June 5th-8th at Mulberry Mountain in Ozark, Arkansas.
STS9, Umphrey's McGee and Michael Franti & Spearhead are among the acts due to take center stage, along with a special appearance from resident Mulberry Mountain sasquatch, Sassy, who features in an exclusive clip released by festival organizers called "The Saga Of Sassy The Sasquatch – Part 1″.
You can watch said epic below and do try to contain your excitement while waiting for the release of Part 2. I know it's difficult.
Wakarusa 2014 is due to feature more than 150 acts across six stages, and organizers promise that the festival will "never [be] corporate, always progressive. Forever, your home away from home", unless, presumably, you live in Wakarusa, in which case it's your home at home.
The initial lineup also includes Lettuce, Dr. Dog, Papadosio, Cherub, BoomBox, DJ Snake, Moon Taxi, Turnpike Troubadours, Nicki Bluhm & The Gramblers, St. Paul and The Broken Bones, Alvin Risk, The Knocks, iLL.Gates, Phutureprimitive, Break Science, The Hood Internet, Moon Hooch, Leagues, Wild Child and more.
Also, fun fact – according to a statement on the festival's website, 'wakarusa'  "is a word derived from Native American culture that means 'ass-deep.'"
Anticipating more than a little puzzlement, the statement then goes on to clarify, "Of course, back then this described the depth of a river. Now, in its 11th year, we have come to know Wakarusa as a way to define the depth of an experience." Yup, an ass-deep experience.
According to the internet, there are two more line up announcements yet to come, as well as the annual desperate and utterly inconsequential weather predictions, as is stipulated by ancient tradition. Over the last three years, Wakarusa has seen serious rain, glorious sunshine, and just about everything in between, so your guess is as good as ours.