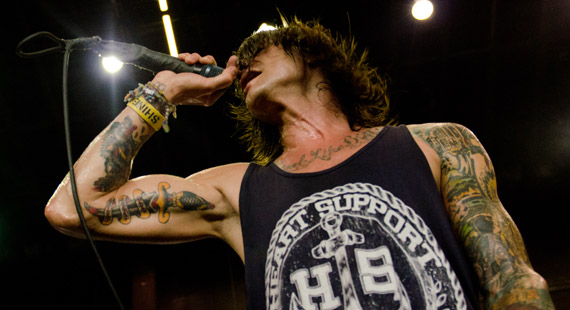 Mark Runyon | ConcertTour.org
Vans Warped Tour 2013 Pluck The Used, 3OH!3, BlessTheFall
Fans of the Vans Warped Tour have less than a month to get excited about the start of this year's traveling festival. Bands joining this incarnation of the now legendary trek include The Used, 3OH!3 and BlessTheFall.
The tour will visit 40 cities across the U.S., starting June 15 in Auburn, Washington at the White River Amphitheatre. The trek will then run through an August 4 show in the parking lot of Reliant Park in Houston, and in between will hit towns including Mountain View, California; Mesa, Arizona; Columbia, Maryland; Hartford, Connecticut; Burgettstown, Pennsylvania; Tinley Park, Illinois; Bonner Springs, Kansas; Atlanta; Orlando and Milwaukee.
As usual, each stop features a ton of bands, and this year's lineup also includes Motion City Soundtrack, Reel Big Fish, Sleeping With Sirens, The Wonder Years, We Came As Romans, Bring Me The Horizon and more.
Earlier this month, organizers announced the Warped Tour '13 compilation album, which features 50 tracks spread across two CDs. Bring Me the Horizon frontman Oli Sykes got the honor of being pictured on the cover photograph for the album, and the band has their single "Go to Hell For Heaven's Sake," featured on the collection.
All the bands mentioned above that are playing at the event have songs featured on the CD, as do others performing on the tour, include The Black Dahlia Murder, Allison Weiss, Memphis May Fire, Crown the Empire, Never Shout Never, Might Mongo, Black Veil Brides, The Beautiful Bodies and The Summer Set. The album will be out June 4.
This year is the 18th year of the Warped Tour, and the absence of any significant veteran punk bands in the line up is conspicuous. Many past lineups have included acts like Bad Religion and NOFX, but there have been many reports during past tours of tensions rising between the older and younger bands.