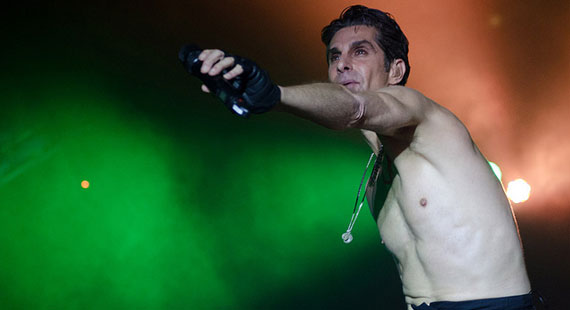 Mark Runyon | ConcertTour.org
Uproar Festival Calls on Jane's Addiction, Alice in Chains, Coheed and Cambria
This year's incarnation of the traveling Uproar Festival will feature Jane's Addiction, Alice in Chains and, Coheed and Cambria.
The fourth annual version of the tour will kick off August 9 at the Toyota Pavilion at Montage Mountain in Scranton, Pennsylvania, and the road party will continue through a September 15 date at the Verizon Wireless Amphitheater in Irvine, California on September 15. In between, all groups in the lineups also will visit Darien Center, New York; Bristow, Virginia; Toronto; Oklahoma City; Denver; Salt Lake City; George, Washington and Chula Vista, California, among others.
Who are the others included in that "all groups in the lineup"? Let me fill you in.
On the main stage, you'll also have Circa Survive with the other three notable acts. But there's a second Festival Stage at each stop that will feature a number of other acts including Walking Papers. You may not have heard of that name, but you've likely heard of at least a few of the members of the supergroup, which features Duff McKagan (Guns N' Roses), Barrett Martin (Screaming Trees), Jeff Angell (The Missionary Position) and Benjamin Anderson (The Missionary Position).
But that's not all. The Festival Stage also will host Danko Jones, New Politics, Middle Class Rut and Chuck Shaffer Picture Show. The latter was the winner of last year's Uproar battle of the bands.
Alice in Chains will release its fifth studio album between now and the start of the festival. The awesomely (?) titled The Devil Put Dinosaurs Here will be out May 28, and legendary guitarist Jerry Cantrell, who recently cut his trademark flowing blonde mane, spoke about the upcoming tour and how he feels about playing with Jane's Addiction.
"Like we always do, we make everything up as we go along," he said. "We wanted to go out with another really great band. Jane's Addiction is a band we've always really admired. I remember during our early days those guys would come through town. They were so f**king bad**s. Those first couple of Jane's Addiction records are so important to me and even more so to [singer] Sean [Kinney]."