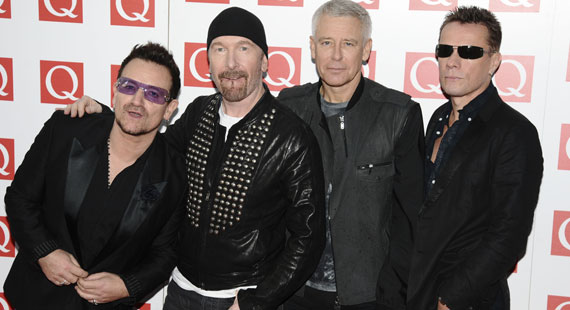 Featureflash | Shutterstock
U2′s New Album 'Songs of Ascent' Scheduled for Release in Early 2011
In an interview with the Irish Times Paul McGuinness, U2 manager, said a new album from U2 should be released early next year.
McGuinness said, I am expecting a new album from U2 sooner than people think.  My guess is early 2011, right before their next American tour leg which begins in May.
U2′s new album has a tentative title of "Songs of Ascent."
Reportedly some of the songs that the band has been playing on their tour this year include "Boys Fall from the Sky," "Every Breaking Wave" and "Mercy."
In the meantime the band's "360 Tour" itinerary continues to expand.  New shows have been added to two continents on two different hemispheres.
Two South African soccer venues for the World Cup- on February 13 in Johannesburg and on February 18 in Cape Town- will be staging the first live concerts there when U2 performs its recently confirmed gigs.  Other new stops for U2 include a May 29 visit to Winnipeg, Manitoba.  The tour now has a total of four Canadian stops.
For the two South African gigs, ticket onsales will start on October 23.  Winnipeg show tickets will go on  sale starting on October 25, according to the promoters.
The last time U2 played in Winnipeg and South Africa was on the "PopMart" tour in 1997.  Earlier this summer, the North American leg of the "360 Tour" was postponed when frontman Bono sustained a back injury.  The leg is now occurring a year later from its original schedule.
The next leg for U2′s North American tour will open in Denver on May 21, followed by 18 more shows in 14 cities.  Meanwhile the next stops for the band will be on November 25-26 in Auckland New Zealand.