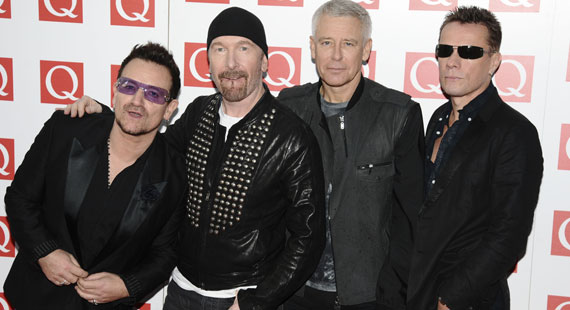 Featureflash | Shutterstock
U2 to Headline Coachella in the 2015?
Though U2 have become known for avoiding the festival circuit in recent years, a report from The Desert Sun suggests that a Coachella headlining spot with the band's name on it may become available in coming years, with both parties expressing interest in one another, like a musical romance.
According to The Desert Sun, U2 frontman Bono spoke backstage at the Palm Springs International Film Festival Awards Gala this weekend, and explained that he had attended Coachella as a spectator last year, and was very keen on the prospect of headlining the shindig.
Expressing similar sentiments, Coachella founder Paul Tollett told The Desert Sun that there  "Ain't no crime in asking him about Coachella."
In case you're wondering what U2 were doing at a Film Festival gala, Bono and The Edge represented U2 (because they are the only members of U2 who are allowed to leave their houses) to accept the Sonny Bono Visionary Award in part for their recording of "Ordinary Love" from the film, "Mandela: Long Walk To Freedom."
Coachella 2014 is due to take place across two weekends from April 11th-13th and April 18th-20th in Indio, California. The line-up is believed to be announced this week, but acts already rumoured to be appearing include Arcade Fire, Outkast, Neutral Milk Hotel, HAIM, Pixies, and CHVRCHES. Odds are U2 won't make the cut this year, but who's to say whether they'll be occupying a headlining slot in one of the following years.
In the meantime, U2 are said to be working on a new album with producer Danger Mouse, though there have also been rumours of involvement from Will.i.am, David Guetta and RedOne too. The band has been sketchy on the details about its release date, other than to say it should be out sometime this year. NME suggested that an announcement could be made at the Super Bowl in February. The British music magazine added that the fact that the album is due to be released by Island Records ought to ensure the band's return to their "spiritual home", whatever that means.