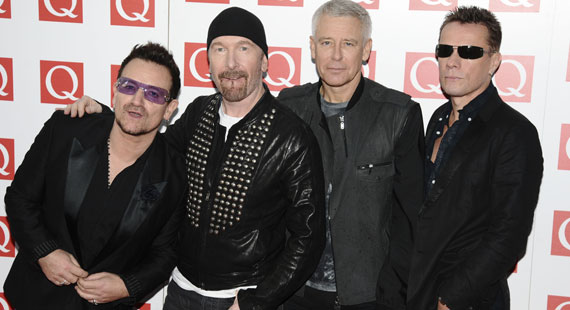 Featureflash | Shutterstock
U2 Set to Outgross Rolling Stones Record Tour
U2 is poised to set the record for having the all-time highest grossing tour. The gross for U2′s "360 World Tour" after their second show in Sao Paulo, Brazil at Morumbi Stadium, will exceed $558 million, which was the take for the Rolling Stones' "Bigger Bang Tour" from 2005-07. Once the band has wrapped up their North American leg in Moncton, New Brunswick in Canada on July 30, the band will have made a projected $700 million.
U2 will also set the record as the all-time most-attended tour with their "360 World Tour." This is in part due to the unique staging of the band, which enables stadiums to increase their seating capacity by 15-20 percent.
The 360 tour's success is a testament to the enduring global popularity of U2. However it is still surprising in some ways that the band decided to tour to back "No Line on the Horizon." The album hasn't spawned any major hits and has underperformed in terms of retail sales.