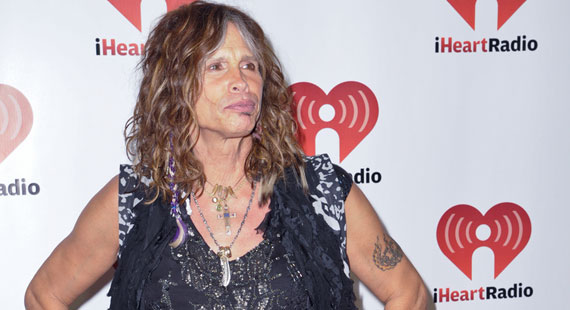 Amy Nichole Harris | Shutterstock
Tyler Says New Aerosmith Album Coming, Band to Perform on 'American Idol' Finale
Steven Tyler, lead singer of Aerosmith has issued an update on the new album that is set to be released by the group.
Tyler indicated that he has been collaborating with Joe Perry, guitar player for the group, on recording several new songs. In addition, the group announced that it had recently played together at Marti Frederiksen's Monrovia, California recording studio.
Tyler stated, "I sent Joe a bunch of songs and he sent me a bunch of licks, we've e-mailed back and forth with each other. All I need is a few good licks. That's the way 'Walk This Way' was written, one of Joe Perry's licks and I grabbed the ball and ran with it. And that's all it takes sometimes."
Tyler indicated that the band has been going through a rough patch over the past few years. In fact, Aerosmith nearly broke up before an intervention was held and Tyler went into rehab and left the group.
In an interview with Billboard, Tyler said, "Sometimes other people try to keep us apart, so it's a little difficult. I'm with different management. They're with different management, they've got their lawyers. I've got my lawyers. When we get together in a room, magic happens. Things get settled. It's just hard right now, but who knows what this summer will bring."
In addition, Tyler also verified that Aerosmith will be playing on American Idol this season.
He stated, "We're playing the last show of the season. It was always my intention, always, to get Aerosmith on the show. I mean, Joe's done it, I'm ready for it."