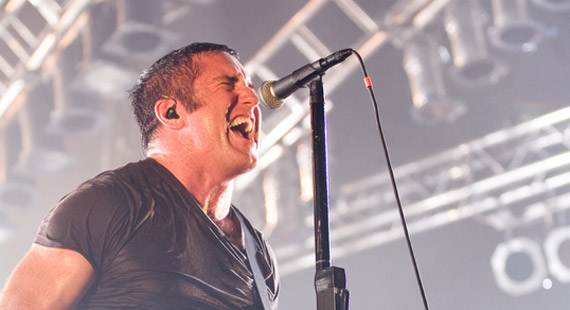 Ferenc Szelepcsenyi / Shutterstock
Trent Reznor's How to Destroy an Angel Books April Concert Tour
Trent Reznor is taking his How to Destroy Angels project on the road later this spring for a tour to support a new album.
The tour will kick off at a previously announced appearance at Coachella on April 12 (the group will be back for the second Coachella weekend April 19), and the band will stay on the road through an April 29 gig at the Apollo Theater in New York. Other cities on the tour include Las Vegas; Monterey, California; San Francisco; Denver; Chicago; Toronto; Boston and Montclair, New Jersey.
As to whether or not more dates will be added to the current tour, the band remains a little vague.
"These are the only dates we have scheduled right now," reads a statement on the group's website. "To preemptively answer the 'when are you coming to my city/country??' questions: We just don't know. Right now, the dates above are the only dates. There are some other announcements coming soon that will impact this as well…"
The tour will support the group's first full-length studio album, Welcome Oblivion, which is out March 5. However, the album is currently streaming in its entirety in the player below. Previously, the band has released two EPs, 2010's How to Destroy Angels and last year's An omen EP_.
In addition to working with the group, Reznor recently has been busy with other projects, as well. In a Reddit AMA recently, he replied to a question about what else he's been working on.
"A number of things," he wrote. "Tweaking some things for the HTDA full LP (coming in Spring), helping Josh [Homme] out on a new [Queen's of the Stone Age] track, working with [Nine Inch Nails tour producer] Roy [Bennett], starting rehearsals for two bands."
He's also planning to release new Nine Inch Nails music in 2014 as part of a compilation set.