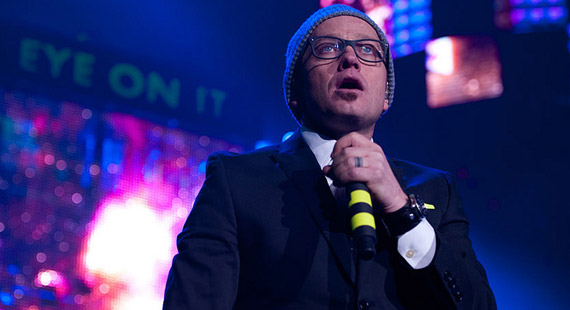 Mark Runyon | ConcertTour.org
TobyMac Unravels Hits Deep Tour This Winter
TobyMac, TOBYMAC, tOBYmAC, or however else you wish to spell it, has just announced a reprisal of his successful Hits Deep Tour, which took place last year.
The new tour will feature a slightly different line-up of artists, and will take place across 20 cities, as opposed to last year's super exclusive 10. The shows are due to kick off on November 7th of this year in Huntington, West Virginia, and will see the singer play concerts in Baltimore, West Palm Beach, Jacksonville, Chicago, Bridgeport, New York, and others, before wrapping up on December 15th in Indianapolis, Indiana.
'Mac will also be bringing a veritable smorgasbord of Christian talent on the road with him, including Brandon Heath, Mandisa, Jamie Grace, Colton Dixon, Chris August, and newcomers Capital Kings.
In a statement on his official website, Toby had this to say of the new tour:
"This tour is going to be exactly what most people want to see when they go to a concert – a show where you know every song. Big hits that hit deep! Not just hits because they are sonically a good listen, but because they've spoken deeply to our souls. These artists are all headliners in their own right, but we've come together to serve up the hits that have become a part of people's lives."
TobyMac, otherwise known to family and friends as Toby McKeehan, has won six Grammys and even got his alma mater in on the new tour. Liberty University will also be on the road with the Mac man, running an informational booth and giving presentations on stage offering prize winning opportunities to attendees. So, whether you like TobyMac or you're just a prize-winning enthusiast, this tour looks to have you covered.