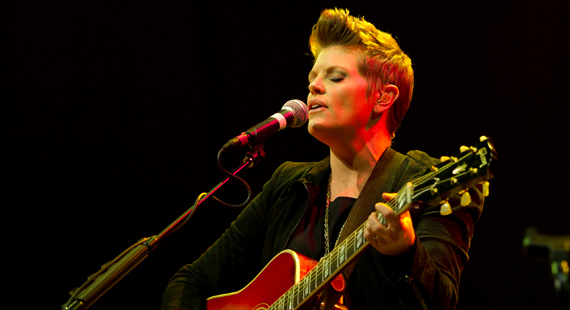 Mark Runyon | ConcertTour.org
Toby Keith vs The Dixie Chicks
Amidst the death threats and record-burning protests that emerged in the wake of Natalie Maines' comments about President Bush ("we're ashamed that the President of the United States is from Texas"), the Dixie Chicks also had to deal with vocal opposition from a much more high-profile figure, namely Oklahoma singer-songwriter Toby Keith.
Indeed, the feud between the two chart-topping acts quickly became one of the ugliest in country music history, so much so that even to this day, Keith still refuses to even say Maines' name aloud. But although the whole Bush debate intensified matters, their rivalry in fact began several months earlier with the release of Keith's 2002 single, "Courtesy of the Red, White and Blue."
Written in the wake of his father's death, but also as a response to the 9/11 attacks, the track was a hugely nationalistic ode to Uncle Sam which immediately raced to the top of the country charts. But reflecting his hugely divisive output, the song was also criticized for its jingoistic nature, most notably by Canadian-born newsman Peter Jennings, whose request to soften its lyrics for an ABC patriotic special resulted in Keith refusing to appear on the show.
But foreshadowing the outspoken tendencies that would later derail her band's career, it was Natalie Maines who offered the most stinging criticism, claiming it made the whole of country music sound ignorant and that "anyone could write a song with lyrics like let's kick some Iraqi ass."
Inevitably, Keith responded in a similarly vitriolic fashion, arguing that Maines had never written anything that was a hit (the six US country number ones the Dixie Chicks scored would beg to differ) and that he didn't class her as a true songwriter.
But it was following Maines' attack on Bush at their Shepherds Bush Empire gig in London that the feud became more public and much more extreme. On his Shock'n Y'All tour, Keith displayed a backdrop featuring a doctored photo of Maines with Iraqi dictator Saddam Hussein, a stunt which delighted his fans but enraged his rivals'.
Maines then used a much more high-profile platform to launch her retaliation, sporting a t-shirt with the initials F.U.T.K. during a performance at the Academy of Country Music Awards, an acronym which she initially claimed stood for Friends United in Trust and Knowledge, but later admitted was a less than subtle expletive-led message to Keith.
Despite insisting that Maines' behavior was an attempt to quash his right to free speech, it was Keith who first backed down when after discovering that the daughter of a former band-mate was terminally ill, he came to the conclusion that the fight was trivial in comparison.
Maines also appeared to agree to a ceasefire, with only footage from their 2006 documentary, Shut up and Sing, recorded during the height of their feud, bringing up their rivalry again. And in 2008, the organizers of Al Gore's environmental "We Campaign" even bravely attempted to bring the formerly warring singers together for a commercial which never came to fruition because of their 'conflicting schedules.'
However, it was one of Maines' bandmates who kick-started a whole new battle in 2011 when during an interview to promote her Court Yard Hounds side-project with Martie Maguire, Emily Robison was asked about Keith. Fanning the flames, she then asked listeners to seek out a 1989 song by Robert Earl Keen entitled "The Road Goes On" and compare the similarities to Keith's newest single, "Bullet In The Gun."
Many people thought she had a case. Keen's original was a love-gone-wrong tale about a small-town waitress who runs off with an ex-con after he saves her from the unwanted advances of a customer, only to then shoot a police officer while on the run. Keith's track centered on a similar tale of a small-town dancer who gets into a stand-off with police after robbing the boss who is abusing her, while its main melody wasn't exactly a million miles away either.
Despite an outcry from his fans, Keith failed to respond to the insinuation he may have borrowed a trick or two from Keen and the whole feud appears to have fizzled out again. But with Maines recently launching her solo career, it wouldn't be a huge surprise if a new chapter in their rivalry kicks-off in the near future.