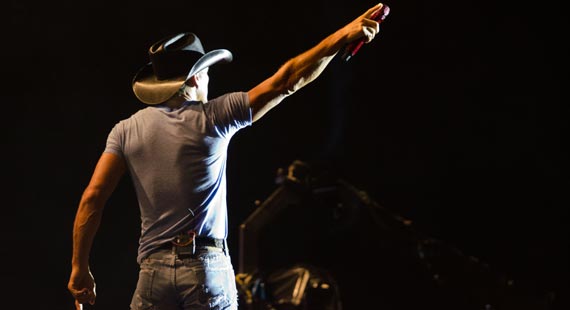 Mark Runyon | ConcertTour.org
Tim McGraw Supports 'Two Lanes of Freedom' with Summer Amphitheatre Tour
Tim McGraw will be on the road for nearly three months this summer for the "Two Lanes of Freedom" tour.
The trek will begin May 2 at the Oak Mountain Amphitheatre in Birmingham, Alabama and will continue through a show at the Farm Bureau Live at Virginia Beach show on July 27 in Virginia Beach, Virginia. In between those dates, he also will visit cities including Charlotte, Tampa, Pittsburgh, St. Louis, Indianapolis, Washington D.C., Salt Lake City, Hartford, and Boston.
"Let's leave anything that might be weighing us down out in the parking lot and spend a few hours together felling alive and free," McGraw said in the announcement for the tour. He'll be bringing Brantley Gilbert and Love and Theft along with him for the tour.
Between now and then, McGraw will be appearing over multiple weekends at the Venetian in Las Vegas with his wife Faith Hill in Soul2Soul shows. The two won't be taking the show on the road together, however.
"Everybody [wanted] us to do a Soul2Soul tour, and we just couldn't do it," he told Billboard. "This was a way we could play together and only be gone one or two nights a month."
The tour is appropriately named considering McGraw's upcoming album is also called Two Lanes of Freedom. The album is the 12th studio record by the Country singer, and it will be released February 5.
"This album marks a new sense of excitement and artistic freedom for me, and I really wanted to extend that same feeling to the tour and create a cool vibe for the fans," McGraw said, according to TheBoot.com "We've started working up new songs from the album, and there's some really cool stuff we'll be able to pull out this summer. My band is just kick-ass…there's nothing these guys can't play!"