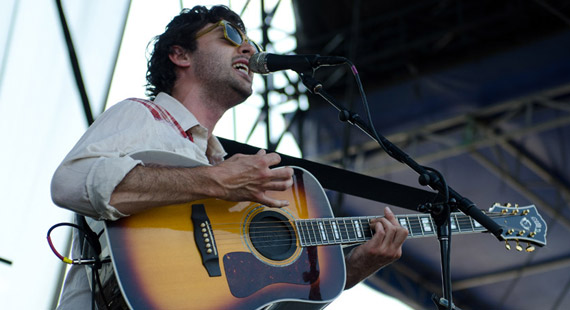 Mark Runyon | ConcertTour.org
The Head and the Heart Wrap Tour with Fall Theatre Dates
It seems that the Head and the Heart have been on the road pretty much ever since their debut self-titled album was released in April of last year, and now the group has announced a third and final U.S. tour for later this year.
The new leg will kick off September 15 in Seattle at the Paramount Theatre and will run through October 10, when the group will play the McDonald Theatre in Eugene, Ore. In between, the group will make stops in Spokane, Wash.; Missoula, Mont.; Salt Lake City; Boulder, Colo.; Tulsa, Okla.; San Diego and Los Angeles, among others.
Most shows will have support by Blitzen Trapper and Bryan John Appleby, though Curtains For You also will appear at select dates.
The newly announced dates will begin just about a month after the band wraps up its current summer tour. Many of the dates on the current tour are festival dates, including appearances at Milwaukee Summerfest, Basilica Block Part, Winnipeg Folk Festival, Vancouver Folk Music Festival, Firefly Music Festival, Celebrate Brooklyn, Newport Folk Festival and Lollapalooza. The group also will open for the Dave Matthews Band for two dates in June in Camden, N.J. and Hershey, Penn.
The group's self-title album was actually first released independently by the band in June 2009. The independent album reportedly sold 10,000 copies, and Seattle's Sub Pop Records released a remastered and expanded edition in April 2011. Since that time, the record has gone on to sell more than 175,000 copies. The album peaked at number one on the Billboard Heatseekers chart and number four on the Billboard Folk Albums chart.
The band has toured with such acts as The Walkmen, Vampire Weekend, Dr. Dog, the Decemberists and Iron & Wine and also has appeared on late night shows such as "Conan" and "The Late Show with David Letterman."