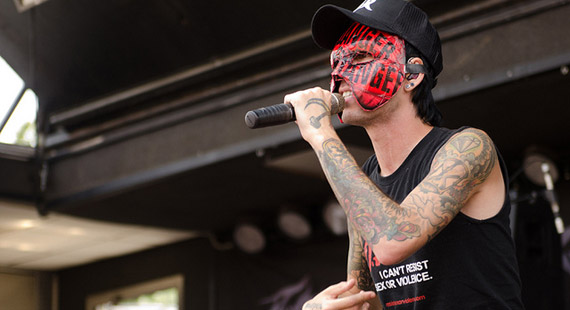 Mark Runyon | ConcertTour.org
The Fight to Unite Tour Features Kottonmouth Kings, Deuce
Kottonmouth Kings will be taking Deuce on the road with them for the second annual "Fight to Unite Tour," later this year.
The tour kicks off April 8 at the Rialto Theater in Tucson, Arizonia before continuing for nearly a month before finishing at the Key Club in Hollywood, California. In between, the bands will hit Dallas, Houston, Atlanta, Baltimore, Cleveland, Detroit, Devner, Salt Lake City, Seattle and Las Vegas, among other cities.
In addition to Deuce, the Kings also will be joined by Dizzy Wright, Snow Tha Product and Eskimo Callboy on the traveling show.
Deuce, the former frontman of Hollywood Undead, was part of the first "Fight to Unite" tour last year, which also included Blood on the Dance Floor, Brokencyde and Polkadot Cadaver, among others. Most tickets for the tour go on sale February 22.
The Kottonmouth Kings will use the tour to support their most recent album, Mile High, which came out last year and broke into the top ten of Billboard's Rock and Alternative albums chart. The album is the 13th studio album by the band.
A press release describes the formation of the Kings, which began in Southern California suburbs nearly two decades ago, as "an unlikely group of stoned misfits formed a musical partnership that would ignite an entire generation of weed loving, free thinking, bass bumping, rip hop junkies."
Deuce released , Nine Lives, his debut solo album last year, and it debuted at number two on the iTunes rock albums chart. He left Hollywood Undead in 2010 before the band released its sophomore album the following year. Deuce was only involved in the band's debut, Swan Songs, which reached number 22 on the Billboard 200 albums chart.
Eskimo Cowboy is a German band that describes itself as "danceable porn-metal, with a pinch of psychedelic glam rock.