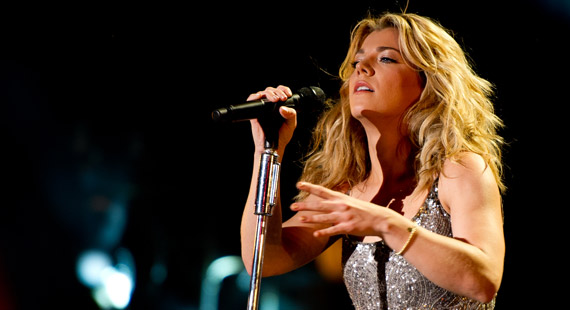 Mark Runyon | ConcertTour.org
The Band Perry Team Up with Fall Out Boy for CMT Crossroads Performance
Fall Out Boy and The Band Perry are the latest acts to confront one another's back catalogs on CMT's Crossroads.
Crossroads has been combining unlikely musical bedfellows since 2002, taking one country outfit and pairing them with an band from a different genre in a bid to prove the diversity and boundary-breaking nature of musical expression.
That said, it would be fair to suspect that Fall Out Boy and The Band Perry may make for a strikingly odd combination. Fall Out Boy are more known for high octane pop-punk, like that of singles "Sugar, We're Goin' Down" and "Dance, Dance", while The Band Perry, made up of Kimberly Perry and her brothers Reid and Neil, are known for heartfelt hits such as "Done", "Better Dig Two" and "When I Die Young." The combination should prove interesting, if nothing else.
It looks as though Fall Out Boy were prepping to cover some of The Band Perry's songs, with band guitarist Joseph Trohman tweeting:
"Staying up late, going over @thebandperry songs for @cmt crossroads tomorrow. Stoked."
While a number of rock outfits have made show appearances over the years, Fall Out Boy will be the first pop-punk oriented act to show their hand.
It seems mutual excitement has been running rife across Twitter, with The Band Perry similarly tweeting their anticipation as follows:
"Excited to partner with @falloutboy for an upcoming @CMT Crossroads special on 11/29 at 10PM ET!"
Your guess is as good as mine regarding which songs Fall Out Boy will take on – The Band Perry's newest single, "Don't Let Me Be Lonely," is already in the Top 30 on the country airplay chart, so that could be a good candidate. That said, when was the last time a Band Perry track didn't do really well, so in short, all of the songs are good candidates.
We'll all find out on November 29th at 10pm Eastern time, anyway, when "CMT Crossroads: Fall Out Boy and The Band Perry" is set to premiere.