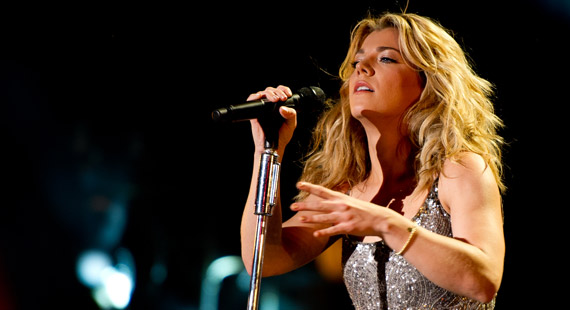 Mark Runyon | ConcertTour.org
The Band Perry Chart 'We are Pioneers' World Tour
Country trio and abnormally functional family The Band Perry (made up of siblings Kimberly, Reid and Neil Perry) have announced a worldwide headlining arena tour, which'll be their first ever. Exciting!
The tour, named the We Are Pioneers tour, will be in support of their latest album, Pioneer, released earlier this year, and kicks off in the brilliantly named Gothenburg, Sweden on November 8th of this year. The tour sees them cover virtually everywhere in Europe over 5 weeks, before carrying the band into 2014 with dates across Canada and the US, beginning on January 9th in Penticton, British Columbia, and finishing up in Estero, Florida on March 22nd 2014. At this point, we imagine they'll all want seriously intense showers, and an alarmingly hot home-cooked meal.
The band recently spoke to Radio.com and commented on the importance of touring to them as a band, with Reid Perry demonstrating an excellent command of metaphor:
"We are our truest selves on stage. When we play a live show, it's more fun than recess."
The Band Perry fans can also expect a big show on their We Are Pioneers tour, with Kimberly Reid commenting on the band's showmanship:
"We're not minimalists live. Our musical arrangements are macro."
Pioneer is only The Band Perry's second full length studio album, but has already generated two country chart-topping hits – "Better Dig Two" and "Done" and has been their most heartfelt and emotionally-charged yet. Kimberly Reid explains:
"One of the themes that rose out of this record was rising above whatever your circumstances are. But there were also moments where we were just so elated, be it a sense of love, or a sense of accomplishment. We felt all these different emotions over the last two years. So each track is truly a snapshot of a moment in time that we have lived through over the past couple of years."
Support will come from Easton Corbin and Lindsay Ell.