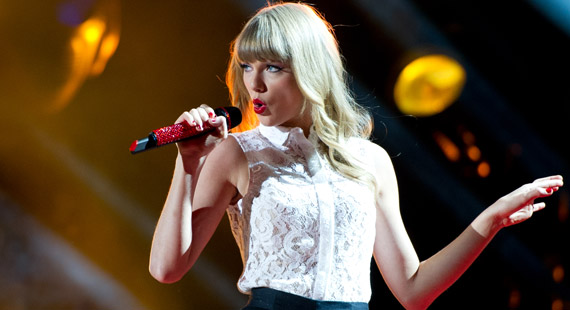 Helga Esteb | Shutterstock
Taylor Swift Wins Entertainer of Year at CMA Awards
The Country Music Association named Taylor Swift the Entertainer of the Year at this year's CMA Awards, held November 9 at the Bridgestone Arena in Nashville. It was the first time the 21-year-old has won the award. Her 2010 album, Speak Now, was passed over for the Album of the Year award, however, with that honor going to Jason Aldean, for My Kind of Party, which was released in November 2010 and currently is the best selling country album of 2011.
Swift, who seemed shocked to win the award, thanked a wide variety of stars for appearing at her shows, including Justin Bieber, Usher, Tim McGraw and Nelly.
Other winners included the Band Perry, which won for new artist. The band's single "If I Die Young" was picked for Song of the Year honors. Husband and wife team Miranda Lambert and Blake Shelton won the female vocalist and male vocalist awards, respectively, and Lady Antebellum won vocal group of the year. 2011 marks the third consecutive year the band has won the award.
Other notable moments included Lionel Richie singing a medley of songs including "Deep River Feeling," "Stuck on You" and "Dancing on the Ceiling." Former Hootie and the Blowfish singer and current country star Darius Rucker joined Richie for "Stuck on You." Richie's appearance foreshadows his upcoming country duets album, which will be released later this year.
Co-hosts Brad Paisley and Carrie Underwood also performed a duet of "Remind Me," which was a number one country hit for the two performers this summer.
The CMAs also spent time honoring country legend Glen Campbell, who announced earlier this year that he has Alzheimer's disease. Vince Gill, Keith Urban and Brad Paisley took turns singing Campbell's hits "By the Time I Get to Phoenix," "Wichita Lineman" and "Galveston." Campbell, who still has tour dates lined up, appeared on stage but did not perform.