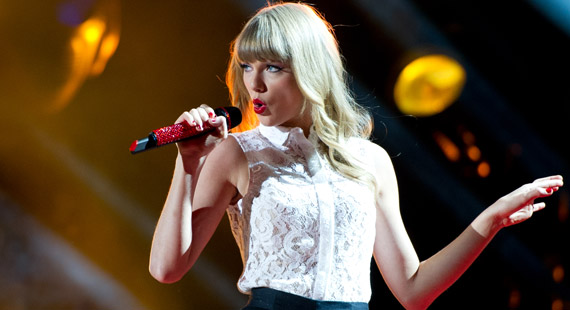 Helga Esteb | Shutterstock
Taylor Swift Topples Ke$ha's Single Week Sales Record
Taylor Swift's new single, "We Are Never Ever Going to Get Back Together," sold an amazing 623,000 downloads in its first week of release. This gives Swift the record of the highest one-week digital sales ever by a female artists, as she breaks the previous record of 610,000 sales, held by Ke$ha's 2010 single "Tik Tok."
"Never" also breaks the highest first week sales ever by a female, which was held by Lady Gaga's "Born This Way," which moved 448,000 digital copies during its first week of release. The overall record holder for most digital copies sold within a one-week period is Flo Rida's "Right Round," which sold 636,000 copies during one week in 2009.
The sales numbers also give Swift her first ever number one hit on the Billboard Hot 100 chart. Previously, she had reached number two on the chart with both "You Belong to Me" and "Today Was a Fairy Tale," but she had never managed to jump into the top position.
Billboard reports that part of the reason for the high sales numbers may have been a partnership between Swift's record labels Big Machine and Universal Republic with radio conglomerate Clear Channel. The latter group played "Never" often and at prominent times on many of its radio stations across the country following the song's release on August 13. In addition to country stations, the song was played on pop and adult stations as well, giving it the wider reach that may have placed it in the number one spot.
The song debuted at number 13 on the Billboard Country Songs chart, and that is the highest debut by a female singer since BDS data began being used for the chart in 1990. It ties for the second best overall debut with Kenny Chesney and Tim McGraw's "Feel Like a Rock Star." Garth Brooks has the highest debut single: his "More Than a Memory" debuted at number one in 2007.