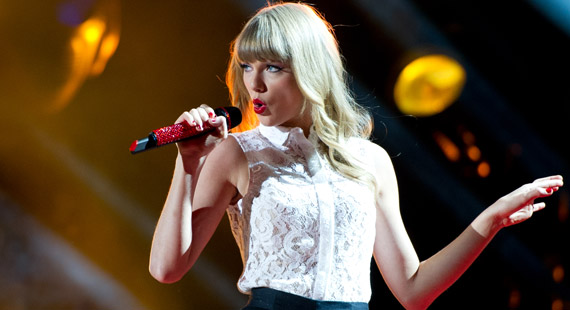 Helga Esteb | Shutterstock
Taylor Swift Takes on Joni Mitchell in 'Girls Like Us' Film
Taylor Swift will take on the role of Joni Mitchell in the upcoming film "Girls Like Us."
Rumors of Swift's involvement in the movie, which is an adaptation of Sheila Weller's book of the same name, first surfaced this spring, and a Variety report confirms that the singer-songwriter "is already in line to play Joni Mitchell."
The book focuses around Mitchell along with her fellow female singer-songwriters Carly Simon and Carole King. The Variety article points out that Jessica Pare is testing for the role of Simon. Pare is most recently known as Don Draper's second wife Megan on "Mad Men." Analeigh Tipton and Allison Williams also are testing for the role.
Alison Pill, currently known for her role on Aaron Sorkin's "The Newsroom," is testing for the role of King. Olivia Thirlby, Ari Graynor and Zoe Kazan are testing for the role, as well.
The movie has long been in the works, though it has yet to get the official greenlight from Sony Pictures and Di Bonaventura Pictures. Katie Jacobs, executive producer for "House" optioned the book and will direct the film. The script is by John Sayles.
Previously, Swift has appeared on the big screen in the romantic comedy "Valentine's Day" and voiced a character in "The Lorax." She also appeared as herself in the 2009 Miley Cyrus vehicle "Hannah Montana: The Movie." Late last year, Swift was reported as a contender for the role of Eponine in the upcoming film version of "Les Miserables." That role was instead awarded to actress Samantha Barks.
The book, officially titled "Girls Like Us: Carole King, Joni Mitchell, Carly Simon – the Journey of a Generation," was released in 2008. It then spent eight straight weeks on the New York Times best seller list. According to the book's website it "is loaded with fascinating stories of three women who helped a generation through good times and bad just by singing their beautiful and heartfelt songs with lyrics that resonated with all of us."