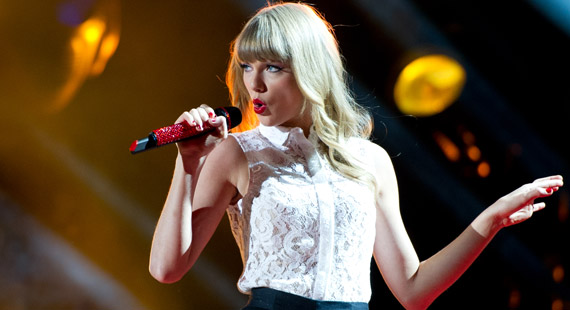 Helga Esteb | Shutterstock
Taylor Swift Schedules Extensive 2013 'Red' Concert Tour
Taylor Swift will embark on a 58-date stadium and arena tour early next year to support her newest album, Red.
The extensive tour will kick off with two shows in Omaha on March 13-14, 2013. The tour is scheduled to continue until Swift plays a three-night stand in Nashville on September 19-21. In between those dates, the country star will visit virtually every inch of North America, with stops in Atlanta, Cleveland, Dallas, Toronto, Philadelphia, San Diego and Los Angeles, among many others.
British singer-songwriter Ed Sheeran will join the tour as a special guest. Sheeran duets with Swift on the Red song "Everything has Changed," which the two co-wrote together. The song went to the number one spot on the iTunes all-genre Top Songs chart.
"I didn't think I could be any more excited about my Red album, but then I start thinking about how I'm going to put the new show together for "The Red Tour," Swift said in a statement. "I have so many ideas about how to really bring this music to life, and I can't wait to share the new show with all my fans."
The statement also reports that, per Swift's request, every show on the tour will have tickets available for less than $50. The tour is produced and promoted by The Messina Group, a partner of AEG Live.
Taylor Swift has had quite the week since Red was released seven days ago. The album reportedly sold more than 500,000 copies on the first day it was available, and is on track to top 1 million copies sold during it's first week of release. If that happens, it will make Swift the only female artist to have back-to-back albums sell more than 1 million copies in a week since Nielsen SoundScan began keeping records in 1991. Her 2010 album Speak Now sold 1.047 million copies during the first week it was available. The only album to sell more than that since that time was Lady Gaga's 2011 release Born This Way, which moved 1.108 million copies its first week.