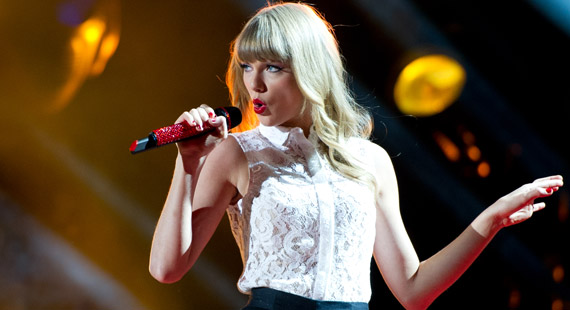 Helga Esteb | Shutterstock
Taylor Swift Records Hop from Studio to Guinness Book
Taylor Swift has led a charmed as well as awards-filled life. The talented and beautiful superstar now can tack another two accomplishments onto her resume. The country superstar is now able to claim two 2012 Guinness Book of World Record mentions. Taylor, congratulations on holding two Guinness World Records.
So what do Swift's achievements refer to? Don't worry, they have nothing to do with owning more red lipstick than anyone or baking the largest cupcake in the world, although someone is always achieving weird records like these. All of Swift's mentions are career and music related. She currently holds the latest record as Female Artist with the fastest-selling digital album. In November 2010 her album "Speak Now" had 278,000 digital version sales. Swift's second world record was for having Most Simultaneous Hot 100 U.S. Hits from a Female Artist. Swift has had 11 Hot 100 Hits in a row.
A note to all of the potential boyfriends of Taylor Swift: break her heart and she'll write about it in her songs. She will enjoy the last laugh and break music records as well as break Guinness Book of World Records because of it. In the world of Taylor Swift, it's reciprocal. She is able to turn the most sour lemons from life into a refreshing, tall glass of lemonade through her songs.