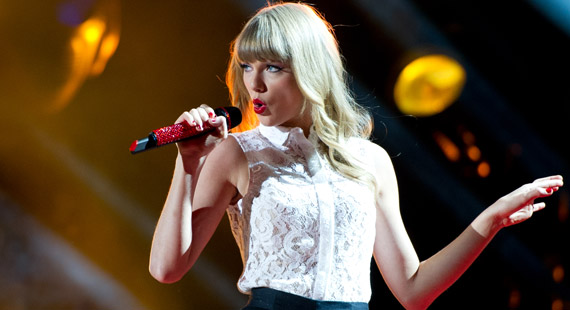 Helga Esteb | Shutterstock
Taylor Swift in Negotiations to Play Joni Mitchell in Biopic
Taylor Swift is in talks to play Joni Mitchell in what would be her first big screen drama.
Variety reports that the pop star is in talks with Song Pictures and Di Bonaventura Pictures to play Mitchell in the big screen adaptation of Sheila Weller's book "Girls Like Us." The book examines the careers of Mitchell, as well as Carly Simon and Carle King.
The film news magazine reports that though Swift hasn't received an official offer, she has been tied to the role for months. It is also reported that Alison Pill, known for her work in the most recent Woody Allen film "Midnight in Paris," is in talks to play King.
The book has been optioned by Katie Jacobs, an executive producer of the Fox television show "House." Jacobs is expected to direct, and the script of the book is written by John Sayles. Lorenzo di Bonaventura, recently known for his work on "Transformers," will produce the movie. If the film is greenlit, production is expected to begin later this year.
Swift has previously appeared in the romantic comedy "Valentine's Day" and lent her voice to "The Lorax." She also made a cameo appearance as herself in the 2009 Miley Cyrus movie "Hannah Montana: The Movie." It was reported late last year that Swift was in the running for the role of Eponine in the upcoming film version of "Les Miserables," but she did not end up landing the part.
"Girls Like Us: Carole King, Joni Mitchell, Carly Simon – and the Journey of a Generation," was released in 2008 and spent eight straight weeks on the New York Times Best Seller List. According to the book's official website, it "is loaded with fascinating stories of three women who helped a generation through good times and bad just by singing their beautiful and heartfelt songs with lyrics that resonated with all of us."