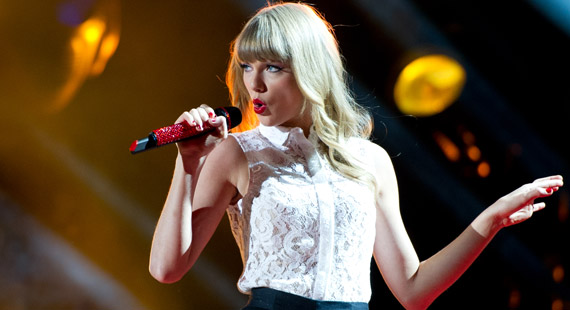 Helga Esteb | Shutterstock
Taylor Swift Featured on '60 Minutes' This Sunday
Taylor Swift will appear in an interview on CBS's "60 Minutes" this Sunday, November 20. The interview will be part of a profile of the 21-year-old country singer.
Fresh from receiving the Entertainer of the Year award at the year's Country Music Association awards show last week, Swift sat down with Lesley Stahl to talk about her role as a celebrity, among other things.
"I definitely think about a million people when I am getting dressed in the morning," Swift said in a clip of the show released online. "That's just part of my life now. I think it's my responsibility to know it and to be conscious of it"
She went on to elaborate on the importance of her role as a young, popular singer.
"It would be really easy to say, 'I'm 21 now, I do what I want. You raise your kids,'" she said. "But that's not the truth of it. The truth of it is that every singer out there with songs on the radio is raising the next generation, so make your words count."
In other Swift news, her latest single, "If This Was a Movie," debuted this week in the top ten of the Billboard Hot 100 charts. The song was released as a single on iTunes and also on a bonus disc for singer's latest record, Speak Now.
Speak Now was released in October 2010, and has gone on to sell more than 5.5 million copies worldwide and has been certified triple platinum in the United States.
Swift currently is finishing up tour dates for her year-long "Speak Now World Tour," which will conclude in New York with two show at Madison Square Garden on November 21 and 22. The only other dates she currently has scheduled are 12 dates in Australia and New Zealand in March 2012.