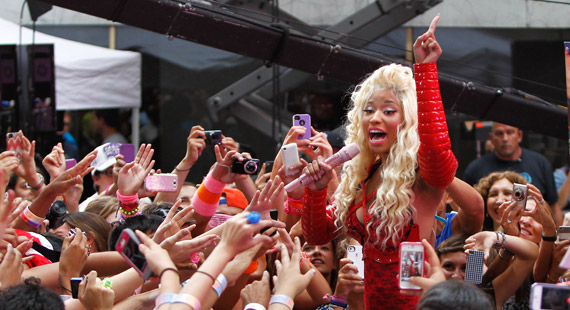 Debby Wong / Shutterstock
Strained Vocal Cords Cause Cancelled Nicki Minaj V Fest Appearance
Nicki Minaj cancelled her appearances at England's V Festival over the weekend due to damage to her vocal cords.
In a statement to the Hollywood Reporter, Minaj's publicist said that the pop singer "regretfully cancelled" her shows at the festival "due to strained vocal cords." She was scheduled to appear Saturday and Sunday.
The representative also said that, "Despite doctor's orders, she performed on a bruised vocal [cord] in (New York City) on August 14. As a result, the [cord] has gotten worse."
The August 14 show the publicist referenced was a two-hour concert at the Roseland Ballroom in New York City. The concert was Minaj's first official headlining show in New York, and featured special guests Lil Wayne, Drake and Foxy Brown.
Both that show and the cancelled concerts are part of Minaj's ongoing world tour, "Pink Friday: Roman Reloaded World Tour." Though Minaj has been ordered to rest her voice for the next several days, there have been no other cancellations or postponements at this time.
After the aforementioned Roseland Ballroom show, Minaj spoke with MTV News about how much Foxy Brown had included her life.
"I never really told Foxy how much she has influenced me and how much she changed my life, and you've gotta tell people that when they're alive to even be able to take the compliment, instead of paying tribute to them when they're no longer here," Minaj told the music station. "I never really knew how she felt about me – in the industry, with women, you kinda just tread lightly – and I'm glad I was able to finally come out and say: 'You were the most influential rapper to me.'"
The V Festival was a two-day festival held in Hylands Park and Weston Park in Essex, England. Acts featured at the music festival included the Killers, LMFAO and David Guetta.