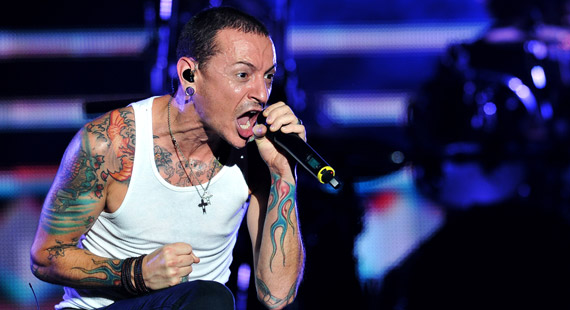 mooinblack / Shutterstock
Stone Temple Pilots Bring Aboard Linkin Park's Chester Bennington
Earlier this year, Stone Temple Pilots bassist Robert DeLeo and drummer Eric Kretz announced that frontman Scott Weiland had been "officially terminated" from the group, and after that the only thing we heard was Weiland himself denying those claims.
Well, Weiland's denial now appears to be just another in a long line of delusional statements by the troubled singer, as it has now been announced that he's been replaced in the group by Linkin Park's Chester Bennington.
"Chester has a one-of-a-kind voice that we've admired for a long time," said STP guitarist Dean DeLeo in a statement. "We know Linkin Park will always be his priority, but we thought it would be cool to try something together. We managed to find the time to record a song and we're all really happy with the result."
Additionally, the new singer appeared with the band for a 40-minute surprise set at the annual KROQ Weenie Roast festival over the weekend. He sang STP classics including "Sex Type Thing" and "Vaseline," and also premiered said new song called "Out Of Time" that echoes classic Led Zeppelin. That song represents the first new music from the group since 2010's Stone Temple Pilots.
The group – and Weiland in particular – has always had an unstable career, and broke up in both 1997 and 2002. The band got back together just long enough to release that self-titled record in 2010. In the times that the group has been on hiatus, Weiland has recorded a few solo album and also was part of the supergroup Velvet Revolver with most of the original members of Guns 'N Roses that aren't named Axl Rose. But he was kicked out of that group at least once, and afterward also claimed he had not been "terminated," though guitarist Slash has usually been quick to set the record straight about Weiland's involvement (or lack thereof).
Bennington also got involved in the press release quote action, saying he's excited about working with STP, though he makes it clear he'll continue to work with his primary band.
"When the opportunity came up to do something creative with them, I jumped at the chance," Bennington said. "The guys in Linkin Park have been incredibly supportive of me undertaking this project while I've continued to work on new music with LP."