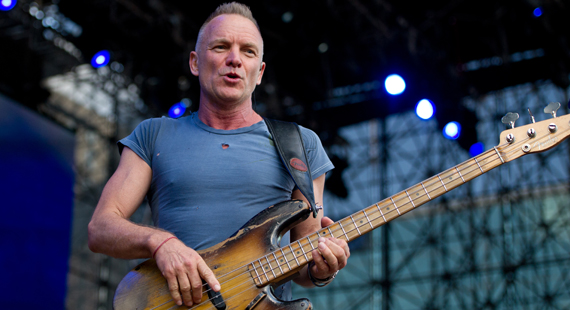 Mark Runyon | ConcertTour.org
Sting Strips Down His Sound in Back to Bass Tour
Sting will bring back his "Back to Bass" tour for the third year in a row later this year.
The tour will being with a North American leg that starts May 30 at the Prospera Place venue in Kelowna, British Columbia. That tour leg lasts until a June 26 performance at the Mile One Centre in St. John's, Newfoundland. Other cities on the continent he will visit include San Francisco, Santa Barbara, Chicago, Atlantic City, Boston and Summerside, Prince Edward Island.
After the first leg, Sting will travel to Europe for a handful of festival dates starting at the Life Festival Oswiecim in Oswiecim, Poland. Over a two week span, he will perform in Ireland, France, Germany and Norway.
More dates are expected to be announced soon for the upcoming tour.
Each night, Sting will play stripped down versions of songs from throughout his 25-year solo career, going back to his 1985 solo debut, The Dream of the Blue Turtles. His backing band includes guitarist Dominic Miller, keyboardist David Sancious, vocalist Jo Lawry, fiddler Peter Tickell and drummer Vinnie Colaiuta.
Prior to the stripped down "Back to Bass" performances in 2011, Sting had spent two years on the road reunited with the Police, and then spent a year playing solo along with the London Philharmonic Orchestra. The stripped down performances typically find the singer visiting smaller cities not on the itinerary of those massive tours.
Sting's last studio album was 2010′s Symphonicities, which featured many of the artist's hit songs played with the classical symphonic arrangements used on the aforementioned Orchestra tour.
In other Sting news, he will be on hand to honor Bruce Springsteen as the 2013 MusiCares Person of the Year next month. Other tribute performances at the event on February 8 include Elton John, Neil Young and Mavis Staples with Jon Stewart hosting the event.