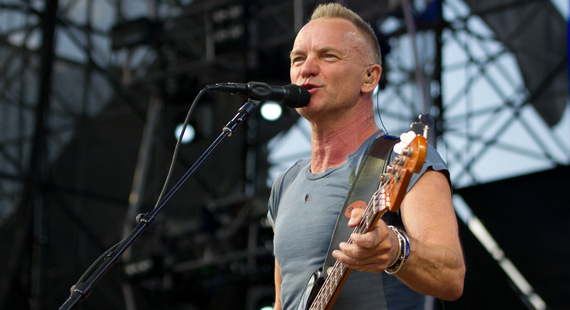 Mark Runyon | ConcertTour.org
Sting Plays Ten Show Residency at New York's Public Theatre
Sting will undertake a 10-night residency in New York later this year to preview songs from his upcoming album, which will be his first record of new material in a decade.
The concerts will take place September 25-October 9 in the 260-seat Anspacher Theater in the Public Theater in New York City. The benefit concerts will raise money for the Public Theater in addition to becoming what is billed as the first and only time Sting will perform the songs from his new album, The Last Ship.
The album features songs from a musical of the same name Sting has been working on, and the shows will feature insights to the creative process of writing the musical in addition to the performances. The album will be released the same week the residency begins, and producers are hoping to stage a Broadway version of the musical in fall 2014.
The inspiration for the musical comes from the shipbuilding community of Wallsend, Newcastle, near where Sting grew up.
"The Last Ship is shaping up to be a masterpiece, both an elegy for and a celebration of the working-class life of the Newcastle shipyards," said Oskar Eustis, artistic director of The Public Theater, according to Billboard.
Sting also spoke of the importance of the Public Theater.
"The Public Theater, a New York institution committed to supporting all of the city's distinct communities, was a natural fit to perform this material that is, at its core, about the importance of community," he said.
Tickets for the shows will range from $250 to $2,500, and a limited number of free tickets will be released the day of each show in the form of a lottery. Additionally, Sting will perform an additional show at the Public Theater on October 2 to celebrate his birthday. For that show, 100 free tickets will be given to Sting.com fanclub members.