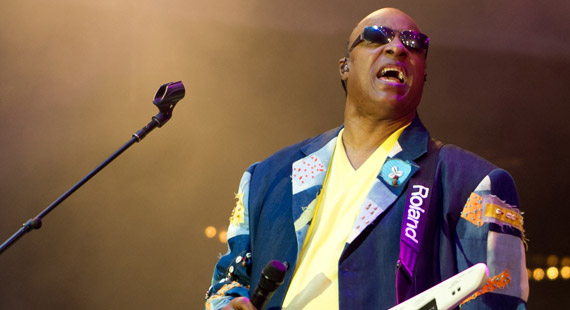 Mark Runyon | ConcertTour.org
Stevie Wonder Plays 'Songs in the Key of Life' at LA Live in December
Music icon Stevie Wonder is set to perform his seminal 1976 album Songs in the Key of Life in its entirety for the first time ever as part of his annual House Full of Toys benefit concert at L.A. Live on December 21st.
Mr Wonder announced the exciting new plans as part of a press conference for the charity, which offers help to children in need during the holiday period.
The musical legend has performed annually at the benefit concert for the last few years, overseeing a four-hour marathon concert in 2011 that featured appearances from Justin Bieber, Drake and host Steve Harvey. In fact, the whole thing lasted so long, that Wonder himself offered to pay the overtime fees, as he went on to play songs like "Higher Ground," "Sir Duke" and "What Christmas Means to Me." Last year the singer took it up a notch, even while suffering from vocal ailments, dressing in a Santa suit and playing a set that included "Superstition" and "Living in the City," as well as a cover of Marvin Gaye's "What's Going On."
Continuing to live up to his well-earned reputation as a living hero, Wonder also spent his time at the concerts to support tighter gun laws, following the school shooting last December in Newtown, Connecticut. "I think people can't think like they're living in the wild, wild west going into 2013," he said. "With guns and their accessibilities, there have to be stronger and stricter gun laws."
Since then, Mr Wonder's been a busy bee, and is allegedly working on a number of new projects, including an orchestra-accompanied album called When the World Began, and Gospel Inspired by Lula, a spiritually-themed record in honor of his mother. Iit doesn't stop there: he's also hinted that he's working on yet another LP called Ten Billion Hearts, so Wonder fans have some wonder-ful years coming up.