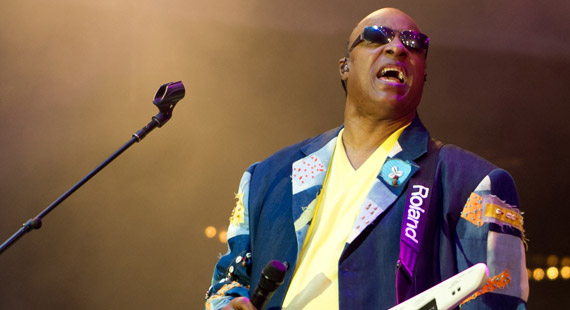 Mark Runyon | ConcertTour.org
Stevie Wonder, Alicia Keys, John Mayer Join Global Citizen Festival 2013
This year's Global Citizen Festival will welcome Alicia Keys, Kings of Leon, Stevie Wonder and John Mayer  to Central Park in New York to continue an effort to end extreme world poverty.
The event will be held September 28, timed around the annual United Nations General Assembly meeting, which also is held in New York. The event is a free ticketed event, but those that want tickets must be active in helping the world's poor.
A total of 54,000 tickets will be given away for the event to those that sign up for the Global Citizen Movement. After signing up, members earn points with each social action they take to help the poor. Once a member earns eight points, he or she is entered into a lottery to win a pair of free tickets to the event. Additionally, 6,000 VIP tickets will be sold through Ticketmaster.
"We want to encourage people who got involved last year to continue to take their involvement to a whole new level," said Hugh Evans, CEO of Global Poverty Project, the nonprofit that organizes and oversees the festival, according to Billboard. "Our principle objective is to enable people to take action."
All profits from the event will go to building schools.
"One-hundred percent of the profits raised goes to building schools in southern Uganda," he continued. "On [GlobalFestival.com] people earn points through buying those T-shirts."
This year's festival also plays a large part in the group's overall goal to end extreme world poverty by 2030.
"The focus of this year's festival is celebrating success and accelerating progress to a world without extreme poverty by 2030," said a statement on the official website for the event. "Join us as we campaign to secure new commitments to health, education, women's equality and global partnerships."