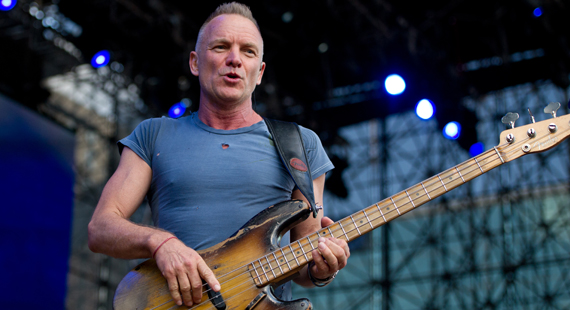 Mark Runyon | ConcertTour.org
Stars Come Out to Celebrate Sting's 60th Birthday
Sting on October 1 will be gathering in NYC with friends to celebrate his 60th birthday.
As expected, the event for the former singer of the Police isn't going to be a small one. He will be hanging out with the likes of Stevie Wonder, Branford Marsalis, Rufus Wainwright, will.i.am, Vince Gill, Bruce Springsteen, Billy Joel, Herbie Hancock, Robert Downey, Jr., Mary J. Blige and Lady Gaga at Beacon Theatre. Most certainly at least some or maybe all these guests will be taking to the stage to perform a few songs.
Sting's birthday party is private, however members of the Sting Fan Club can buy tickets for $270. For those who are not members of the fan club, a donation can be made to Robin Hood Foundation for those really want to go. The bash is acting as a fundraiser for the foundation. Orchestra tickets can be purchased for approximately $1000.