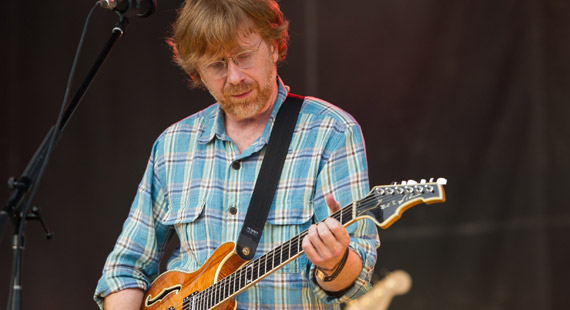 Mark Runyon | ConcertTour.org
Springsteen, Clapton, Phish Bust Out of NOLA Jazz Fest Line-Up
The lineup for this year's New Orleans Jazz & Heritage Festival has just been released, with Eric Clapton, Bruce Springsteen and the E Street Band, Christina Aguilera, Phish and Arcade Fire among the acts scheduled to headline the 45th anniversary edition of the event, spanning two weekends this spring. Jazz Fest will take place at the Fair Grounds Race Course on April 25th-27th and May 1st-4th.
Other artists confirmed for the musical smorgasbord include Vampire Weekend, Santana, Robin Thicke, Robert Plant, Foster the People, Public Enemy, The Avett Brothers, Charlie Wilson, Alabama Shakes, John Fogerty, Trey Songz, Lyle Lovett, Ruben Blades, Johnny Winter and The Head and the Heart.
The festival has become renowned for representing solid Louisiana talent, and this year looks to be no different. Among the hundreds of Louisiana natives scheduled to appear over the two weekends are Trombone Shorty, Allen Toussaint, Aaron Neville, Ivan Neville's Dumpstaphunk, Better Than Ezra, Preservation Hall Jazz Band, Galactic, Hurray for the Riff Raff, Cowboy Mouth and Big Freedia.
As one of the biggest events on the festival calendar, NOLA manages to shake its lineup around every year, which is no mean feat when you consider how long it's been around.
As The Times-Picayune explains, "The vast majority of the hundreds of acts on the schedule are native to, or based in, south Louisiana. But it is the "visiting" acts, the marquee names that inevitably headline the festival's main Acura, Congo Square and Gentilly stages that generate the most discussion. In keeping with the blueprint of recent Jazz Fests, the 2014 headliners are a mix of contemporary and veteran rock, pop and R&B stars."
"This is the hardest festival for me to answer the question, 'Who are looking forward to seeing most?'" said Quint Davis, the festival's longtime producer/director. "You can't answer that question in the singular. This year, talent-wise, is something we've been growing toward. One reason is the type of festival that we've created, this broad, cultural, community-based palette that is designed to have these different kinds of music. From our end, it's varied and deep. But from the other side, it means that these artists in these varied areas want to play the festival. It's meaningful to them to be here."