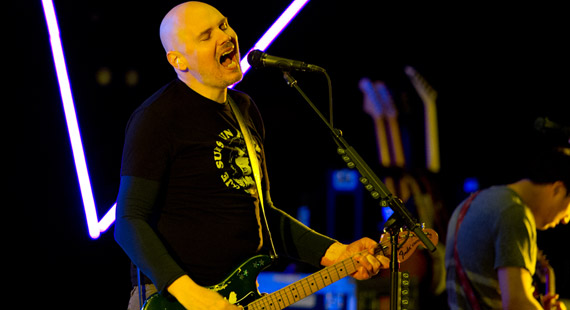 Mark Runyon | ConcertTour.org
Smashing Pumpkins Release North American Tour Cities
Billy Corgan has announced that he will take the current incarnation of the Smashing Pumpkins on tour across North America later this year.
Thus far, only dates in Canada and Mexico have been announced, though a slew of U.S. cities have been confirmed and exact dates will be announced later. The first scheduled show will take place September 22 at the Arena Cirudad De Mexico in Mexico City, and will be followed by an appearance at the Arena Monterrey in Monterrey, Mexico the following night.
The Canadian leg of the tour will kick off October 2 in Winnipeg and run through an October 28 show in Montreal. Other Canadian cities the band will visit are Calgary, Edmonton, Vancouver and Toronto. The confirmed U.S. cities with dates TBA include Seattle, San Francisco, San Diego, Denver, Chicago, Minneapolis, Detroit and Boston.
The group will be backed during the tour by visuals from Sean Evans, who recently worked with Pink Floyd's Roger Waters on creating a new staging of "The Wall." A press release states that the group "will be using new technology in video-mapping to create something new and previously unseen."
The group just completed a trek that took them to Australia, New Zealand and South Korea. Some of the show's were festivals, and on headlining gigs the band played its new album in its entirety along with classics from the band's past catalog.
The band is touring in support of their most recent album, Oceania, which was released in June of this year. Corgan has called the record an "album within an album" and is apparently part of a larger project by the band called Teargarden by Kaleidyscope. The album debuted at number four on the Billboard 200 chart, and number one on the Billboard Independent Albums chart.
In the current lineup of the band, Corgan is the only remaining original Pumpkin.