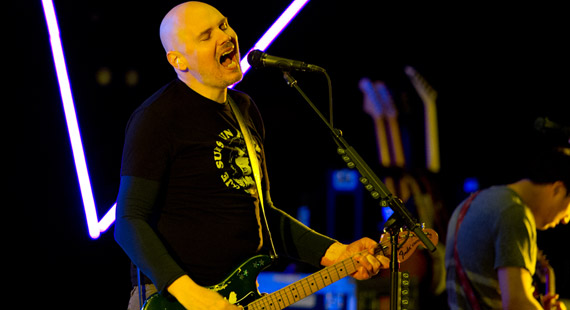 Mark Runyon | ConcertTour.org
Smashing Pumpkins Book World Tour, New Album In Works for 2014
Billy Corgan is gearing up for a big year with the Smashing Pumpkins this year with an extensive would tour and a new album.
The North American leg of the tour will kick off April 29 at the King Center for the Performing Arts in Melbourne, Fla., and the band will stay on the road through an appearance at the Rock on the Range festival in Columbus, Ohio on May 18. Other U.S. cities the group will visit include St. Augustine, Fla.; Tampa; Memphis; Raleigh, N.C.; Charlotte, N.C.; Atlanta; Gulfport, Miss. and Dallas. About a month before the tour kicks off, the band will perform at the Cumbre Tajin Festival in Mexico on March 23.
After the North American trek wraps up, the band will take about a month off before heading to Cologne, Germany, where they will start the European tour on June 20. That jaunt will last until a show at Wembley Arena in London on July 22. Corgan and company also will visit France, Luxembourg, Austria, Italy and Switzerland, among other places.
If that isn't enough to get Pumpkins fans excited, Billy Corgan also said in an interview with the podcast "Interesting People Talking Wrestling" (you read that right) that the group has started working on a new album that may be ready for released in 2014.
"We're just starting to work on a [new] album, so I'd say sometime early next year would be reasonable," he said.
Additionally, he said that he's been working on a book and a reality show for Resistance Pro Wrestling, the wrestling company he started recently. Still no word on why Corgan seems to have developed such a fondness for wrestling, though.
In other Smashing Pumpkins news, it is rumored that the band will hold a surprise performance at the SXSW showcase this year.