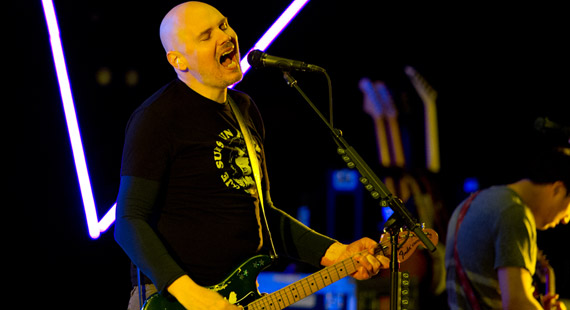 Mark Runyon | ConcertTour.org
Smashing Pumpkins are Hiring!
For the 9.7% of the population scouring the want ads daily, I've got a job lead for you. Billy Corgan is looking for new band mates to play with. Notorious weirdo Corgan, who once took out a full-page newspaper ad to whine about how much he missed Smashing Pumpkins, is looking for a keyboardist and bassist to fill out the band. As for qualifications, you had better be a gushing fan of prog rock and be able to play a mean Jon Lord or Rick Wakeman to be able to fondle Corgan's discerning ear.
Former Pumpkins bassist Ginger Pooley has recently left the band to raise her new baby. Upon her departure, Pooley released the statement, "with sorrow and yet with much thankfulness for the opportunity to have played in the Pumpkins, I am sad to say that I can no longer tour with the Pumpkins," Pooley said in a prepared statement. "… I wish Billy all the best and look forward to seeing the Pumpkins in the near future. I would also like to thank all of the Pumpkins fans for all of their support. I will see you at the Pumpkins shows!"
All this scurrying about for new band members comes on the eve of the announcement of a Smashing Pumpkins world tour. For those interesting In 'Slappin' the bass' with Billy, should kick him an email at pumpkinsbass@gmail.com or pumpkinskeys@gmail.com for keyboardists. Be sure to include your age, resume with any bands/recording work you've done as well as photos and performance web links. Only applicants with video clips will be consider. Think YouTube. Get those applications in by March 31.