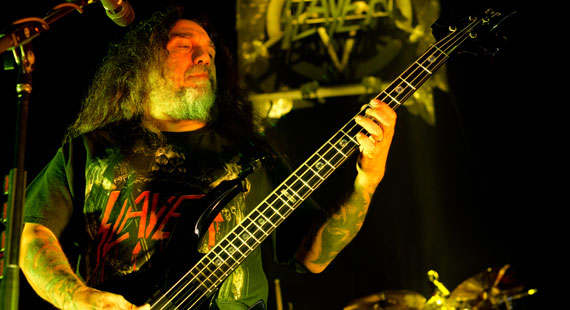 Mark Runyon | ConcertTour.org
Slayer Set Fall Tour with Gojira, 4ARM
After announcing a couple of suspiciously far apart shows in Los Angeles and New York, metal overlords Slayer have announced a fall tour to fill in the gaps.
The five-week trek won't come as a huge surprise to many of the band's fans, as you wouldn't need the deductive powers of Sherlock Holmes to think something might've been on the cards when the band announced two shows a month apart last month. Still, it's good.
The tour will see the band kick proceedings off on October 22nd of this year in Alaska, and marks the first time the band will have stopped there since 1996. Then the band will play shows in Las Vegas, San Jose, Minneapolis, Austin, Chicago, among others, before wrapping up on November 30th in Boston.
It's not been such a great year for the quartet, who presumably have feelings just like the rest of us. Guitarist Jeff Hanneman tragically died earlier this year, and drummer Dave Lombardo left the band. The band currently consists of vocalist/bassist Tom Araya, guitarist Kerry King, guitarist Gary Holt (of Exodus) and drummer Paul Bostaph.
Their horrible year hasn't slowed the band down too much, thankfully, with Araya and King working on new Slayer material and the band playing a string of festival dates this summer and a stint in South America yet to come in September and October.
Support for the upcoming fall tour will come from special guests Gojira and 4ARM on all dates.
In other interesting news, according to a posting on Slayer.net, the band also make Cabernet Sauvignon, (well, they probably don't actually make it themselves, though I do like that idea of Kerry King wildly stomping grapes at harvest time.) It's called "Reign In Blood" and is pictured in its own little coffin. Brilliant.