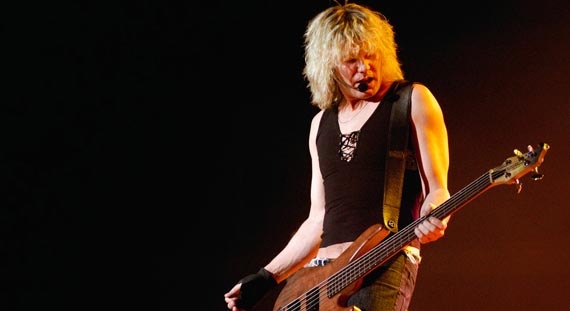 TDC Photography | Shutterstock
Skrillex & Def Leppard. Match Made in Heaven or Rock's Worst Nightmare?
Don't shoot the messenger, but a Skrillex-Def Leppard music-making collaboration may be in the works. I can't work out whether it's blindingly genius or the most horrible thing I can imagine.
According to a recent interview between Rolling Stone magazine and Def Leppard, the newly "rejuvenated" band would love Skrillex to produce their next album.
If it does happen, fans of the classic metal band may have to wait a little while.
Guitarist Phil Collen admitted that, though the band aren't short on material, they are likely to be set back by pre-studio preparations. In his own words:
"We've got a s–tload of new songs anyway, it's just implement them and then, 'What direction are we gonna take? Who are we gonna get to produce it? Are we gonna do it ourselves? Are we gonna do multiple stuff?' An album would obviously take too long, so we're gonna do about four or five songs, get those out and then next year have an album come out, so it'll be an EP and an album."
When asked who the band would like to work with in the future, Collen replied,
"I love Skrillex. I think [he's] fucking awesome, and he's a huge fan. Love to work with him, that would be killer. It's pretty specific and it's not necessarily Def Leppard, [but] I think it'd be great."
If he is a huge fan, the only thing that could get in the way would be Skrillex's packed schedule, so for those of you unhappy about this potential development, then you'd better find a few more things to throw on his plate.
Def Leppard have had an emotionally turbulent year, to say the least, having released Viva! Hysteria, a live album featuring the band performing their classic album Hysteria in its entirety, earlier this week, and band guitarist Vivian Campbell announcing in June of this year that he had developed a form of cancer known as Hodgkins Lymphoma.
Drummer Rick Allen suggested that Campbell's health battles had been an inspiration for the band recently:
"It reminded me of my own vulnerabilities, and the whole idea of just being courageous in the face of something so daunting. I was just feeling for him, and it reminded me of where I was not too long ago, and it made me do the best I could. He rose to the occasion, and it was like, 'F–k me, I better pull out all the stops.' Collectively, it just felt as if the whole band rose to the occasion."
All the best to Campbell and his family.