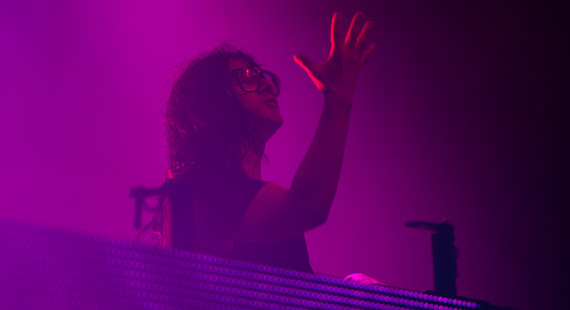 Mark Runyon | ConcertTour.org
Skrillex, Cirque du Soleil Team Up for Light at Vegas' Mandalay Bay
Skrillex will team up with Cirque du Soleil as part of an upcoming residency at the new LIGHT club that will open at the Mandalay Bay hotel in Las Vegas later this year.
Though the dates for the new residency have yet to be announced, LIGHT itself is set to open April 26. In addition to Skrillex, the club has signed residency deals with other DJs including Zedd, Baauer and Sebastian Ingrosso of Swedish House Mafia. But Skrillex is the only one teaming up with Cirque du Soleil, though he says the show is not only about the group's famed acrobatics.
"It's not about having acrobats for my set," he told Rolling Stone recently. "For me, personally, the objective is to have something based around your music and something you want to dance to, not something you want to stare at the whole time. But how do you make the environment completely immersive? I think that's the goal for my show, at least."
He also said that the upcoming show will be designed specifically for Las Vegas.
"The LIGHT Skrillex show is gonna be only in Vegas," the artist explains. "I want it to be distinct to the LIGHT club because the configuration is so customizable, it's f**king crazy. That's the thing about the club, too: they can do anything, so it's how you maximize the dynamic of a great show with all their f**king bells and whistles and all of their budgets and resources to do anything."
Each residency will be unique, and EDM newcomer Zedd told Rolling Stone that part of what attracted him to the club was the opportunity to design his own show.
"I've worked with Amy Thompson, who is part of the LIGHT team, before," he said. "I met with Amy and we went through the whole concept: how we could design the whole production, the whole stage… I don't think it's going to be like a normal electronic music dance show."