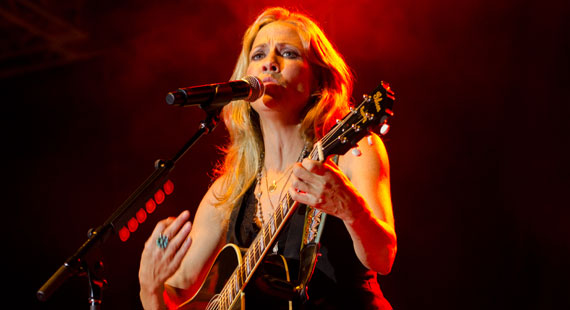 Mark Runyon | ConcertTour.org
Sheryl Crow Officially Joins Country Fraternity
There's always been varying degrees of country influence running through the music of Sheryl Crow, but now she's jumping full-on into the deep end of Country music by releasing her first Country album.
The move follows the lead of other crossovers from rock and folk to country: some successful (Darius "Don't Call Me Hootie" Rucker), some less so (Jewel), some downright confounding (Staind's Aaron Lewis recorded a duet with George Jones). However, Crow has a bit of convoluted history with Country fans.
She co-wrote the hit "Picture" with Kid Rock, and the song was later a Country hit. However, since Rock's record label had been unable to obtain the rights to Crow's performance, her part of the duet was re-recorded for the single version by Allison Moorer. Still, many country stations decided to play Crow's version, instead. It would seem that Kid Rock was the real winner in all of it, however, as it is his highest-charting single to date.
But anyway, Crow will try her Country luck on September 10 when Feels Like Home is released. Rather than writing all the songs herself as she usually does, Crow followed Country tradition on the album and co-wrote each song with another songwriter, one of which was Brad Paisley.
Only the first single, "Easy," has been released so far, but a newly revealed tracklisting for the album definitely reads like a list of Country song titles. A sampling: "Shotgun," "Drinking," "Homesick" and "Callin' Me When I'm Lonely."
Here's the token press release quote from Crow about why she made a country album:
It wasn't until I moved here that I realized what an amazing community it is. It's the thing I've been missing my whole career, the feeling of being able to sit around with a guitar and have people know each other's songs and know songs from people who've influenced all of us. When I moved here pretty early on Vince Gill started calling me to do guitar pulls, and I thought, gosh, this is just like heaven on earth down here.
A less ready-made quote finds Crow comparing herself to Loretta Lynn in "Coal Miner's Daughter."
"It really is like the scene where Doo zips up Loretta's dress and she runs in with her new acetate, her 45, and says, `Here's my new record,' and she plays something on air, shakes a few hands and leaves," Crow told Billboard. "It really is a throwback to that and it's the most organic thing I've done in years."
I'm inclined to say Crow might want to wait until her album's been released before she goes around comparing herself to Country royalty.