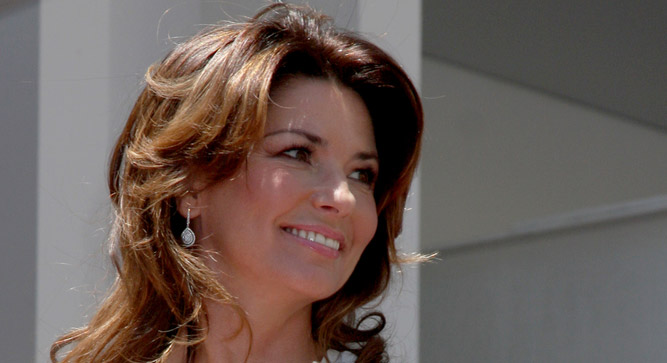 Helga Esteb / Shutterstock
Shania Twain Becomes Latest Caesars Palace Residency Headliner
For country superstar Shania Twain, it's been a very long and winding road to returning to musical relevance. This has been seen recently with Twain's story of painful betrayal and the aftermath, as detailed on Oprah, her tell-all, shocking book entitled "From This Moment On," as well as on "Why Not?", her own reality show. However it now appears that Shania is prepared to make a complete musical comeback. On June 8 she announced she will be headlining her own Las Vegas show in the style of Celine Dion at Caesars Palace's The Colosseum called "Shania: Still the One." Her show will open on December 1, 2012. According to shaniainvegas.com, the website that was just launched for the show, you can expect to hear all of Shania's biggest hits. You can purchase tickets on the website for Twain's two year residency, starting on June 19.
During the press conference to announce the show Twain said, my imagination will be running wild. Creatively, I will be going nuts. She also revealed how her journey after her divorce and subsequent remarriage helped her get back to the point of where she is able to perform once again. This year has been a healing one, said Twain. I've learned to make commitments and put it into healing, rather than anxiety and fear. That's a big turnaround for me.
Recently Twain also announced she will be premiering a new single, "Today Is Your Day," on Sunday June 12 on her show's season finale. It's been six years since Twain's last new single.